Definitions
The respiratory exchange ratio (RER) is the ratio between the amount of carbon dioxide (CO2) produced in metabolism and oxygen (O2) used to produce it. The ratio is determined by comparing exhaled gases to room air. Measuring this ratio can be used for estimating the respiratory quotient (RQ). RQ can be used as an indicator of which fuel, carbohydrate or fat, is being metabolized to supply the body with energy and the proportions of each being burned.
RER is about 0.8 at rest with a standard American diet (SAD). This value, however, can exceed 1.0 during intense exercise, as CO2 production by the working muscles becomes greater and more of the inhaled O2 gets used rather than being expelled. During moderate or higher intensity exercise, both aerobic and anaerobic, the accuracy of RER for estimating RQ declines due to several factors affecting CO2 levels being expelled by the respiratory system.
An RER of 0.70 indicates that fat is the predominant fuel source, RER of 0.85 suggests a mix of fat and carbohydrates, and a value of 1.00 or above is indicative of carbohydrate being the predominant fuel source.
The Equations
Oxidation of a carbohydrate molecule:
6 O2 + C6H12O6 → 6 CO2 + 6 H2O + 38 ATP
RER = VCO2/VO2 = 6 CO2/6 O2 = 1.0
Oxidation of a fatty acid molecule:
23 O2 + C16H32O2 → 16 CO2 + 16 H2O + 129 ATP
RER = VCO2/VO2 = 16 CO2/23 O2/ = 0.7
Table of RER, carb and fat ratios: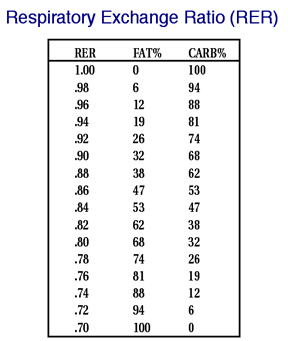 Discussion
Home usable devices to measure RER are becoming available and we may soon have reliable methods to measure fat burn directly and accurately. I started a topic on one such device here. As I encounter others either currently available or in development I will note them in this topic.
What do you think, are the days of obsessing over ketone numbers soon to be eclipsed by simple and direct measure of actual fat burn via the ratio: VCO2/VO2?