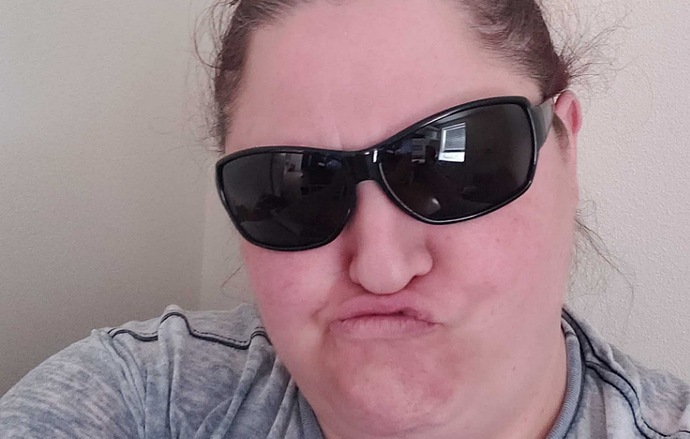 Hi there fellow healthy lifestyle seekers, my name is Kimbrie and I am super excited to be here with you all. I am BRAND new, about halfway through my first fast which I decided to have it 48 hours long to really get things moving. I feel fine, am drinking lots of water and later today will get my supplements to hopefully avoid the yucky "flu". The pic on top is me, I dont take many photos as I want to completely block out the last 2 years. So what brought me here is day before yesterday, my cousin, who is a large framed man like myself, posted on FB that he had lost over 40 pounds and the weight was quite literally falling off. I was obviously quite intrigued and began to research this lifestyle plan for myself. Next thing I know 6 hours have gone by and I am signing on the dotted line sold on the whole mess. I immediately started my fast and gathering up the food and supplies needed to achieve the greatest success. I am driving everyone around me nuts as I cant stop talking about it, it is just ideal for me if I am going to be successful. Back in 2013 I lost 112 pounds in a very unhealthy way. So when things returned to normal somewhat then here creeps in that weight. I hadn't made any formal changes to my diet and I have a pretty unhealthy relationship with food.
The pic on the bottom is me at my smallest, I was a size 10/12 but for a larger framed gal I was pretty cool with it. Unfortunately, at the same time I was bogged down in a deep depression. I stopped cleaning my house, barely got off the couch, as the weight packed on I got to the point I couldn't even look in the mirror at what I had become. I was completely powerless to stop it or change it. So for about 2 years now I have been hovering between 295 and 310. I would lose 6 pounds, gain back 4, never really getting anywhere but frustrated. I can barely tie my own shoes, so many things are just so difficult when you are 100+ pounds overweight. I have been thinner and the 3 pounder you see in the pic and I can without a doubt, I get treated totally different by people in most situations. Men and Women alike. In my mind I didn't see java the hut the emotional eating machine, so I had convinced myself that I was 50 or 60 pounds smaller than reality. A couple of weeks ago I suddenly started to come out of my bluesy fog, I began cleaning my house again, actually doing my hair and make up again in the mirror. Now I feel confident, motivated, and committed to this 100% The only option is to succeed. So I began to really concentrate on making healthy choices, to cut out my craft IPA because it is 30g of carbs per beer, and I am a grown woman…usually having 4 to 6 a day. So when I discovered the intermittent fasting and keto combination like I said it was full steam ahead. My plan is to fast 36 hrs, then eat around 1500 calories over the next 12 hours, and so on etc. It might be a bit ambitious but thankfully I am returning to my old self again and as a professional salesperson I needed me back to effectively do my job. Regardless if I havent lost a pound or however long it takes me to lose pounds, I know I am making the best choice for my health and my waistline. I have tried out a few tracking apps and unfortunately the ones I really like cost money. But hey i would have dues at weight watchers or at the gym so cost of doing business I suppose.
I have gained so much from your posts and replies. It is great we can all do this together. I am hoping someone reading this will also be doing 36 to 48 hour fasts and can share some insight…I really just want to be successful. If you would have asked me 3 months ago if I would willingly give up bread, carbs, and my favorite beer, I would have laughed and resigned myself to this overly large shell of me I have been carrying around for almost 2 years. Does anyone out there test their ketone and glucose levels to make sure you are on track? If so, how often do you do it? Did you find it helpful? Was anyone able to do regular and consistently more challenging workouts during the first few weeks? I am in pretty horrible physical condition so I wont be climbing any mountains just yet, but would like to walk 20 to 30 min 5 days a week unless that is cuckoo? Also I read somewhere it is good to mix up your food choices regularly so your body doesn't adjust to them and lower insulin resistance? Well I am sure I have a bunch more questions, so buckle up spanky lol Thanks for your time and for the record I am a newbie this is true but i make a KILLER cheerleader…SO GO YOU GO, YOU GOT THIS CHAMP!!!