Savory Keto Scones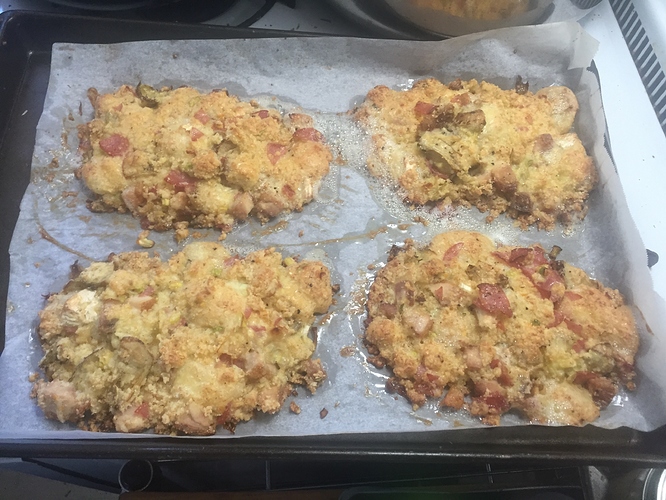 These are super easy, and delicious. You can vary the featured ingredients as you wish, using leftover meats, different cheeses and vegetables. The basic dough is made in a food processor and needs no working after you make it.
Recipe:
150 grams of Grated Mozzarella Cheese
(I have a humongous block of good Muenster Cheese and used that, but mozzarella would be the normal type used)
60 grams Almond Flour
1 Tablespoon Psyllium Husk
1 teaspoon Xanthan Gum
1 teaspoon Baking Powder
1 teaspoon Garlic, granules or powder
1/2 teaspoon Salt
Optional dry herbs of your choice.
Mix it together in a bowl and dump in the food processor. Pulse until pebble like.
In the bowl put your featured ingredients. My choices were a leftover sousvide fried chicken thigh with golden skin, Canadian Bacon, Artichoke Hearts and cubes of Brie. Dump the dough into the bowl and sift it with your fingers.
In a small bowl put 1 egg and 1 Tablespoon of HWC. Beat it well with a fork. Dump about 2/3 of it over the mixture and lightly turn over with a fork. Put parchment paper on a sheet pan and divide into four piles about 1" thick. Add a teaspoon or so of water to the rest of the egg and cream mixture, beat again and use a basting or pastry brush to dab on top gently. You won't be able to completely cover them.
My oven has a pizza stone down low and another rack on the highest slot. I baked at 350F first putting the sheet pan on the stone for 15 minutes then moved it to the top for 20 minutes more. All ovens will probably be different, I will try 375 next time, watching them closely. It's good to get some crunchy bits and the overall texture is cheesy and moist. I am still going to experiment with this because although it's delicious and easy this was the first attempt, but it was good enough to share for sure.
With 110 grams of chicken, 60 grams of ham, 90 grams of artichoke hearts and 90 grams of Brie cubes this was the macro data from the recipe entered into Cronometer.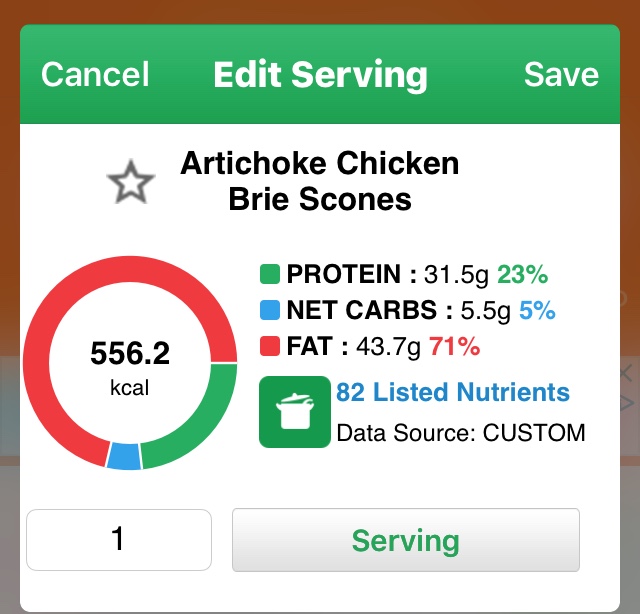 Some other ideas for ingredients are
Bacon Mushroom Cheddar
Jalapeño Ham and Jack
Jalapeño Chicken Queso Fresco
Ham Gouda or Swiss
Ham Onion Pepper Cheddar (Denver)
Bacon Cream Cheese Green Onion
Use your imagination and please post pictures of your own variations if you try them. I don't think you'll be disappointed.