So I found this beautiful infographic the other day while trawling through the web [ http://tabletopwhale.com/2017/05/16/a-galaxy-of-molecules.html ] and wanted to put it somewhere I would be able to find it again.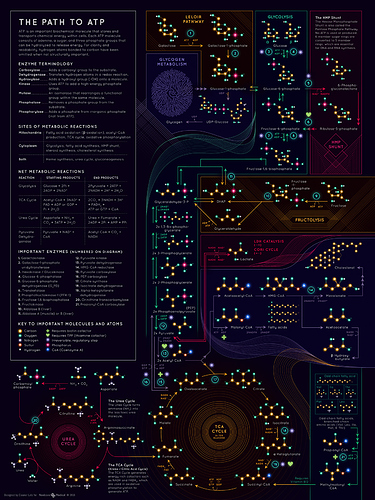 Just look at that drawing of Glycogen … that's purty.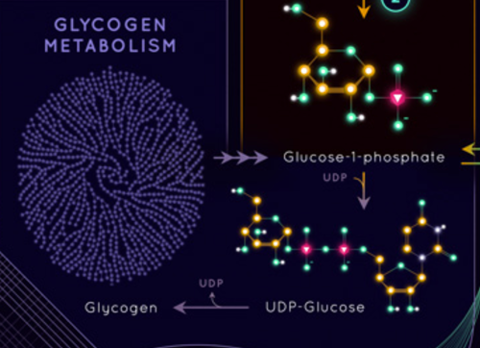 As the George Henderson mentioned in the comments it misses the primary entry point for even chained fats.
#Fats and Ketones
Someone asked me the other day how ketones are made and it looks a little like this ( I had to mark up the infographic a bit … I'm no artist so apologies for the graffiti.);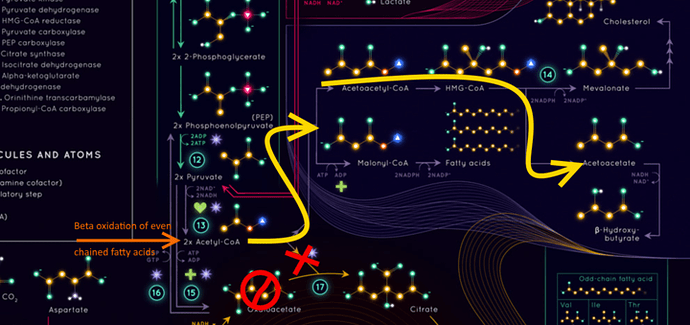 It's worth looking at how fats get into the system in a process called beta oxidation. Even chained fatty acids are chomped up into 2 carbon unit Acetyl molecules which are bonded to a carrier called Coenzyme A … or CoA, to make Acetyl-CoA. At this point it enters the TCA (or kreb) cycle which is a series of 9 reactions (although only 8 are shown in this infographic) that makes carbon dioxide and energy (12 ATPs for every Acetyl-CoA).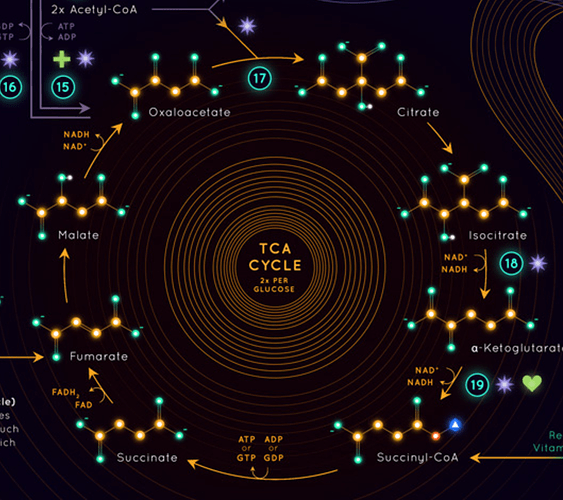 This process adds our 2 carbon acetyl to a 4 carbon Oxaloacetate to make a 6 carbon Citrate and then goes through this series of steps to become a 5 carbon alpha-ketoglutarate and eventually becoming a 4 carbon Oxaloacetate again - ready for the next 2 carbon acetyl.
BTW old mate Glucose ALSO gets into this cycle at the same point, it's cleaved into 2 pyruvates a 3 carbon molecule which is split into an acetyl and a CO2 -> and then that acetyl goes through the same process. This extra release of CO2 when burning glucose is why the respiratory quotient (CO2 breathed out / O2 breathed in) is higher (1.0) for glucose burners, than for fat burners (0.7).
The Kreb cycle is how we make the majority of our ATP we use for energy, it's also where we make the rest of our CO2, but not precisely where we use our Oxygen (that happens in the Electron transport chain).
So you know that we MAKE glucose when we don't eat it - Gluconeogenesis? That process steals one of those Kreb cycle metabolytes called Oxaloacetate. What that does is it throws a spanner in the cycle (the

), and it does it right before the Acetyl-CoA goes into the cycle ( the

). Those Acetyls coming from the liver trying to burn fat then follow the yellow arrow
Those Acetyls are shunted off on a side route following the Yellow arrows to eventually make the first ketone Aceto-Acetate. This is happening in our liver cos that is where Glucogenesis happens, the Oxaloacetate stolen, the AcetoAcetate made. At this point it spills into circulation to eventually be taken up by muscle cells that convert it into beta-hydroxybutyrate and then it can go to our brains to make them less anxious about the dire lack of glucose.