Every once in a while we like to encourage all our friends who have done the impossible - reversed type 2 diabetes, got off medications, and kept substantial weight off for a year or more - to post their story with before and after photos. I did it last year on Facebook, and that was fine, but let's do it again here in the forum, so we can post the link far and wide, and bring attention to the fact that hundreds of us have done it. Even if you have posted your story and pictures elsewhere on the forum or on social media, please post it here. We want this topic to be huge (but getting smaller)

I'll start with my story.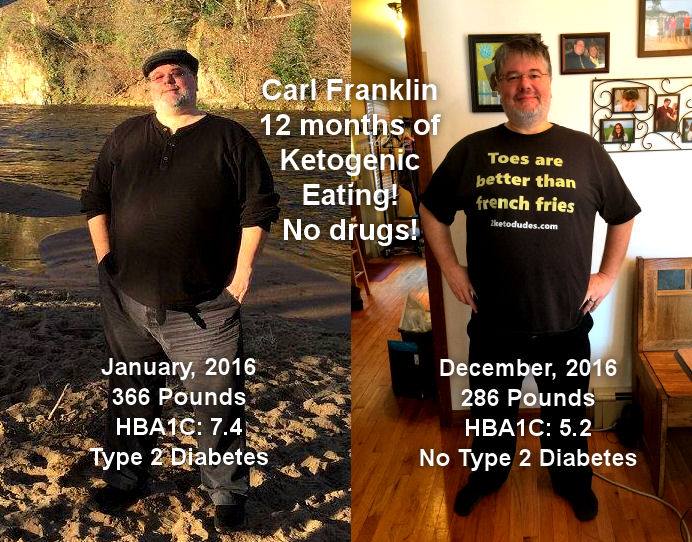 I was born in 1967 and have been heavy since college, with brief periods of weight loss and good health. After I quit smoking in 1991 I gained nearly 70 pounds, which wouldn't begin to come off until years later when I discovered the Atkins diet.
Atkins proved to be hard to stick to. In hindsight, it's because you slowly bring carbs back into your diet, and it's too easy to skip the fat necessary to stay in nutritional ketosis, instead opting for so-called 'healthy' foods like whole grain bread and fruits.
After a divorce in 2008, I went back to a ketogenic diet and lost 60 pounds. I went from 379 to 319 where I hit a wall. After being remarried, the weight slowly came back on until I was over 350. The stall was discouraging, and I think that's what made me a bit weary of low-carb.
My sugar had always been in control, though, because I occasionally would eat low carb for 4 or 5 days. That was enough to keep it just low enough so the doctors wouldn't be alarmed. Pressure from friends and family to watch out for the 'dangers of low-carb dieting' always scared me away from fully committing.
In 2014 I convinced my doctor to let me try a new weight-loss drug, QSymia, which suppresses appetite. It worked at first. I lost about 20 pounds, but found my appetite coming back. The dose had to be upped until I was taking what I thought was way too much. By the time I was at the third level of dosage increase my appetite was back to normal, and the weight came back on with a vengeance. Of course, I was eating the FDA food pyramid with regular doses of fast food, which didn't help my hunger. I went off QSymia, and gained even more weight.
In June, 2015 I was diagnosed with Type 2 Diabetes. My doctor knew about the benefits of low-carb diets, and encouraged me. In 2015 I learned that a close friend had prostate cancer and went under the knife. This friend had gone ketogenic to keep his cancer in check, and it was working. Richard Morris @richard was a mutual friend as well, and I had read about his success with keto on the social networks.
That was it. I was 366 pounds. I knew low-carb was the only thing that worked for me. It was time. I started low-carb again in January, 2016, and this time did the research that convinced me to go full-blown ketogenic. My doctor gave me the green light, and I began keto in earnest on February 1st, 2016.
When I started 2 Keto Dudes with @richard, I had already lost 24 pounds and was on my way to recovery. After only 2 and a half months of keto eating, with no drugs and no exercise, I had lost a total of 35 pounds (11 on keto), and my HBA1C (a three-month average of blood sugar) went from 7.4 (diabetic) to 6.1 (pre-diabetic). In July, 2016, I was 297 (70 pounds lighter), and my A1C was 5.9 (almost non-diabetic). By December I had lost another 10 pounds, and my A1C was 5.2 (non-diabetic).
I have managed to keep most of that off, gaining and losing the same 10 pounds over and over again but never gaining any more. I have found a regimen that works for me, but it takes discipline and planning to stick to it. I'm fascinated by "the stall" phenom. It seems it happens to many people who go low-carb. My plan is to keep calm, keto on, fast when I can, and hopefully another 60 pounds will come off. Meanwhile I don't have diabetes, I have great energy, and I am enjoying my relationship with food again.
Now let's hear YOUR story!