I've moved this to the Alcohol category for reasons which will be obvious later today when I add my next entries. Working all day, so have to wait until I get home again.
I recently purchased Cinchona Succirubra milled powder from Only Bitters in Australia. This is cinchona bark in powdered form. Cinchona is the source of quinine. I ordered this a couple months ago and it finally arrive about a week ago. Today, I got around to my first experiment with extraction. This is the package: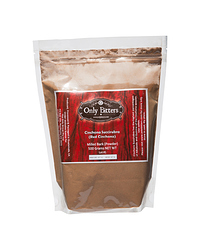 See here for a previous discussion about bitter flavours. My initial intention ordering this stuff was to try to extract the quinine for medicinal use (ie COVID prophylaxis). However, it took so long to get here that I'm less interested in that and more interested simply extracting quinine for the bitter flavour. I will then use the extract to make 'tonic soda' and maybe add it to other concoctions for the bitterness, rather than medicinal uses.
So today was my first experiment at extraction.
5 grams of powder
250 grams of water
Brought the water/powder mix to a 'near boil' in a saucepan of boiling water. This took 30 minutes! I then turned the heat down to about 'simmer' for another 30 minutes. I had to add water a couple of times to the saucepan to top up. I ended with 200 ml of mix. Then removed from heat to allow the mix to cool sufficiently to start filtering it. Filtering is apparently the big challenge!
Here's the mix cooling: