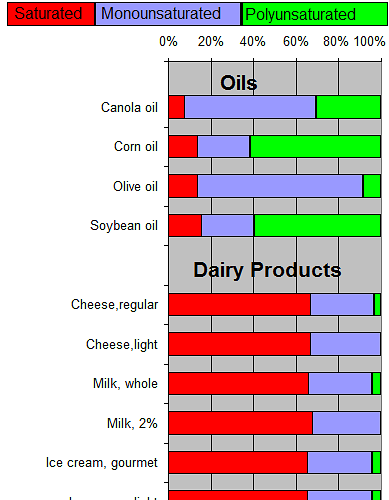 I've been looking into the debate of Poly vs Mono - Unsaturated Fat … which is the best ?
Found the above chart on wikipedia [link]. The visual overview works well for me to spot trends.
The PURE study found that monounsaturated fat was good (protective against heart disease). Saturated fat was neutral (not bad, not protective) and Polyunsaturated fat was "trending" to bad for you, but didn't reach statistical significance.
So, in the pursuit of "Healthy" fats, I'm approaching the question as … I'll be eating a bit of meat here and there and that's not really negotiable (are all meats about the same ?). So what other fats should I try and work in and seem to be maybe be "healthier".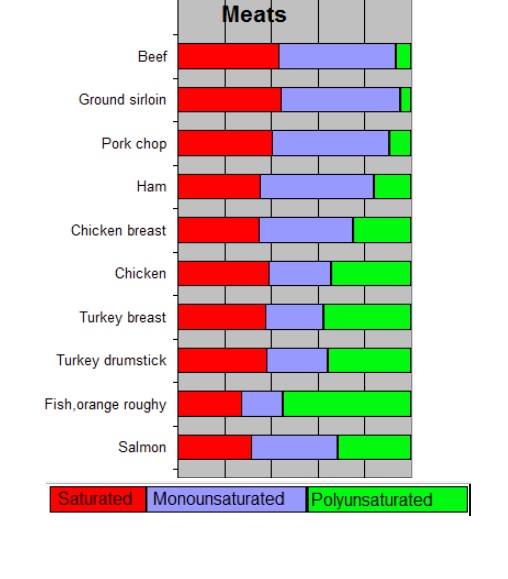 One big surprise for my was how much monounsaturated fat was in beef. I guess I've been told by the .gov that
Beef == Saturated fat
for so long, I never thought there might be other "relevant" fats in it. It is also quite low in polyunsaturated fat which if the PURE results are true … beef is looks good !
trends so far
high in monounsaturated fat.
Macadamia nuts (highest)
Beef
Olive oil
Pork chop
moderate in mono
canola (often in salad dressings)
lard
pecans
cashews
very high in poly.
Flaxseed
Soybeans
sunflower
Walnuts
moderate poly.
chicken
turkey
fish
high in Saturated Fats
Dairy
Butter
Moderate in Saturated fat
All meat (redder the meat, the more the saturated fat)
Todo: Pine Nuts
Q: I wonder if you could quantify goodness/badness of fats via the PURE study data (and other data for that matter) and then use that data to objectively estimate how protective the fat is you are eating ? Is it neutral ? Is it good ?
What have I learned so far ?
Macadamia nuts … I gotta try them !
If the PURE study is "true" … beef is good for you. Better than white meat.
Some nuts are quite high in monos … and some high in polys ! Which nut is healthiest depends on the mono vs poly debate.