Good evening. I've been reading but not posting ("lurking").
FB what a scary week you had! Every day a new clue, you just waiting for the other shoe to drop - but when it finally dropped you knew immediately what to do and did it! Not that many people can actually learn from their experiences but you seem to have nailed it. Cute kangaroo too.
@never2late I wasn't familiar with lipoedema until reading your post, but seem to have the symptoms. I should probably check into it with my doc. But the thing is, from articles and videos I have now seen, what we're already doing is the best thing to do. Shawn Baker said, carnivore. Ken Barry too. I looked around. WebMD says only liposuction can help (not going there.) Maybe when the weight is all gone I can get surgery on the varicose veins which would help. But anyway, thanks for introducing me to that condition. I took the quiz, pretty sure I'm a member of the club!
Having returned on Easter to Texas from 10 days in VA (plus 6 days driving round trip), this was our 1st weekend back to work, as strolling musicians 5 hrs a night in 3 restaurants. I'm still not recovered as I taught yesterday and today and just finished.
This weekend we drive up to Taos NM, about 14 hours, to play a wedding in Saturday. We rented a vintage travel trailer to stay in there. They have about 8 of them on their site. We drive our Transit bus on the road. This should be fun!
I've had some trouble figuring out what food works with the temporary crowns on 3 teeth. Shrimp, chicken, raw to very rare hamburger, and eggs work best. A pork tenderloin proved to be too much. In a few months well go back and get the porcelain crowns put in and I'll be back to normal!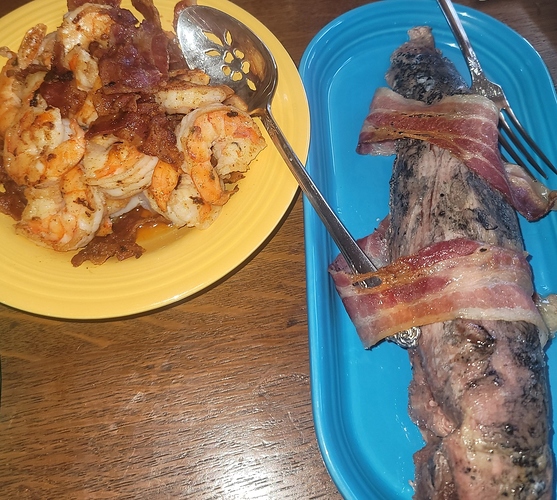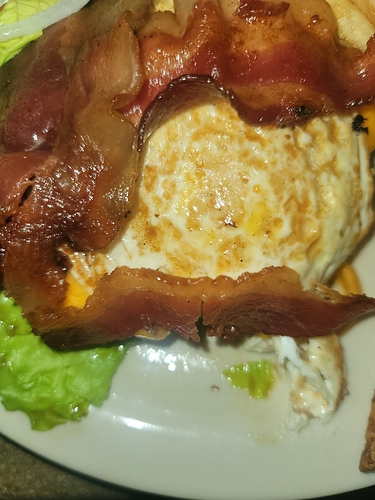 This was a restaurant meal, of course I didn't eat any of the side riff raff