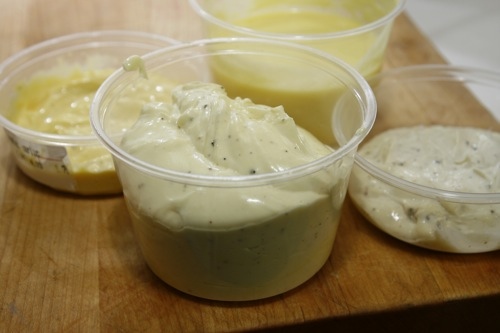 Yes, the post title is a little dramatic. But seriously, stop whatever you're doing; this is more important! If this has been posted before and I missed, I apologize, the idea of Bacon Mayonnaise is just so very exciting. Like most ketonians, I cook a lot of bacon. That leaves me with a lot of bacon fat. I cook with it, I make fat bombs with it but still, when you buy bacon in pallet quantities, there are just so many things one can do with the fat.
This morning I had two problems; we were out of mayonnaise and I had added yet another 100ml of bacon grease to the fridge. This annoys my wife. I thought to myself, wait a minute; if I can make mayo out of avocado oil, why can I make it out of bacon fat? Turns out you can!
After a bit of google searching, I found a link to a Bacon Fat Mayonnaise (yes the caps are appropriate) recipe deep in the archives of the food blog (Serious Eats) of my favorite food blogger J Kenji Lopez written in 2009. Low an behold he figured out how to do it. He failed with his initial experiments, but because he is J Kenji Lopez, he didn't give up; he reached out to a Harvard food science professor who gave him the answer. You can't emulsify bacon grease because it is too high in saturated fats; and the shape of the fat molecule makes it difficult. To resolve the issue, all you need to do is mix it in the correct ratio with an unsaturated fat. Like avocado oil.
Incidentally, that's what I currently make mayo out of. The good stuff is expensive. Bacon grease I have by the freezerful. And it's pissing off my wife. Before you ask, no I haven't made it yet. Alas I have no eggs. I was so excited though I had to share this recipe immediately. I can't wait to finish work and get to the grocery store. Enough preamble. Behold:
Ingredients
3/4 cup rendered bacon fat, melted
3/4 cup avocado oil
2 egg yolks
1 tablespoon Dijon mustard
2 tablespoons mayonnaise (optional)
1 tablespoon water, plus more to correct consistency
lemon juice to taste
salt and pepper to taste
4 strips crisp bacon, crumbled
Directions
Combine bacon fat and canola oil in 2-cup liquid measuring cup. Whisk to combine.

Add egg yolks, Dijon mustard, mayonnaise, and water to bowl of food processor. Run processor for 5 seconds to combine. Scrape down sides of processor bowl with rubber spatula. With processor running, slowly drizzle fat into bowl in a thin, steady stream, stopping and scraping down sides as necessary. Add lemon juice, salt, and pepper to taste, and adjust consistency with water until thick, smooth, and creamy, but not mouth-coatingly waxy. Stir in crumbled bacon bits and sliced scallions, if using. Store in refrigerator in air-tight container for up to two weeks.