I agree some people are pumping iron and doing HP (high protein) e.g. carnivore (0 carb)… which could be different compared to someone who may be e.g. sedentary and diabetic (GLUT4 transporter receptors that recess deep into the cell membrane but also muscle contraction stimulates muscle cells to translocate GLUT4 receptors to their surfaces) so there is a big difference in the methodologies and what the biological processes may be for each circumstance from digestion to protease peptide enzyme breakdown to more skeletal muscle tissue meaning more insulin receptor sites?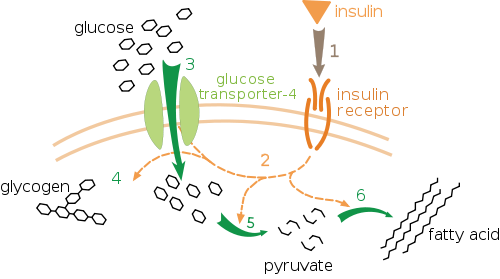 More insulin receptors sites means it's easier for your body to deal with dietary sugar and perhaps from gluconeogenesis[1] and whether or not it is going to be used directly as fuel, stored as fat and glycogen or pulled from glycogen stores in the muscle tissue itself?
Footnotes:
[1] Dietary Proteins Contribute Little to Glucose Production, Even Under Optimal Gluconeogenic Conditions in Healthy Humans:
Abstract: Dietary proteins are believed to participate significantly in maintaining blood glucose levels, but their contribution to endogenous glucose production (EGP) remains unclear. We investigated this question using multiple stable isotopes. After overnight fasting, eight healthy volunteers received an intravenous infusion of [6,6-2H2]-glucose. Two hours later, they ingested four eggs containing 23 g of intrinsically, uniformly, and doubly [15N]-[13C]–labeled proteins. Gas exchanges, expired CO2, blood, and urine were collected over the 8 h following egg ingestion. The cumulative amount of dietary amino acids (AAs) deaminated over this 8-h period was 18.1 ± 3.5%, 17.5% of them being oxidized. The EGP remained stable for 6 h but fell thereafter, concomitantly with blood glucose levels. During the 8 h after egg ingestion, 50.4 ± 7.7 g of glucose was produced, but only 3.9 ± 0.7 g originated from dietary AA. Our results show that the total postprandial contribution of dietary AA to EGP was small in humans habituated to a diet medium-rich in proteins, even after an overnight fast and in the absence of carbohydrates from the meal. These findings question the respective roles of dietary proteins and endogenous sources in generating significant amounts of glucose in order to maintain blood glucose levels in healthy subjects.
Proteins are a source of gluconeogenic substrates and can be used to produce glucose under fasting or a low-carbohydrate intake. High-protein (HP) diets are generally low in carbohydrates and assumed to promote postprandial gluconeogenesis. Previous studies showed that the ingestion of an HP diet led to an increase in the postprandial expression of gluconeogenic enzymes in rats (1–3) as well as fasting fractional gluconeogenesis in humans (4), and amino acid (AA) infusions enhanced endogenous glucose production (EGP) (5). This glucostatic role of dietary proteins has been hypothesized as being involved in their greater satiating power when compared with other macronutrients (6,7).
Under HP feeding, AAs in excess during the postprandial phase are deaminated (8–10) and generate a large quantity of carbon skeletons that are supposed to be oxidized or transformed into glucose. However, the specific postprandial fate of dietary and endogenous AA carbon skeletons has been the subject of very little study. In rats, we recently revealed that only half of postprandially deaminated dietary AAs had been oxidized 4 h after the ingestion of an HP diet (50% of energy as protein) (11), and we assessed that <5% of AA-derived carbon skeletons were used for glucose synthesis. This was achieved by the 15N and 13C labeling of dietary AA and following the tracers in the final products and in glucose. However, we were not able to determine this contribution precisely because we did not measure EGP, and the dietary proteins were traced using extrinsic labeling.
The true contribution of dietary AA to EGP, compared with that of endogenous AA and other gluconeogenic substrates, has not been previously addressed, except by an indirect method in humans (12). The objective of the current study was to precisely measure the contribution of dietary proteins to glucose production in humans by using egg proteins intrinsically labeled with 15N and 13C (13), with the concomitant infusion of deuterated glucose. This original study enabled a precise determination of the contribution of dietary proteins to EGP. …More