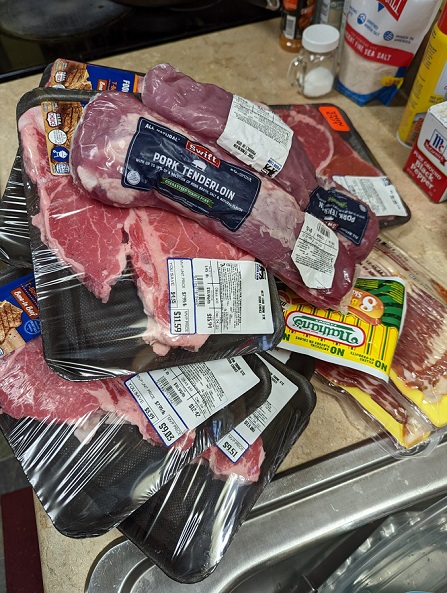 So insanity monsoon rain stopped and I thought…hmmmm. Oh yea made it between big rain to get home this haul I like.
11 Tbones on sale
2 pork loins I wanted
2 pks my bacon still on sale, nabbed
1 pack of my 'ol fav hot dogs'
hot dogs HAHA I saw and wanted since they were on sale. I can't count the times I buy these, eat 2 and eventually throw the frozen pack out a year later…but yea I wanted 2 damn hot dogs I enjoy LOL
yes that is Redmonds salt in the big pouch in that pic. I don't like it. Too crunchy, even the fine but hubby loves it so I get for him now. I still use reg. ol' cheap as I can get my paws on store brand pulverized salt

hey what I like!!
Proud hunter here! I saw, I killed I conquered for my freezer