I am so lucky I never had chronically sick animals… Sudden deaths were hard enough. But having a nice time with our pets, that's good. I can't even imagine not having that. We always had cats.

I have a 900g hen but it's for making hen soup

It won't be a very big soup but we are only 2 persons…
I easily can buy turkey here, good I am not super choosy about parts. I still prefer wings, big meat and no bone-like tendons or whatever the calf of the bird has.
I enjoy not eating much meat today (I probably didn't eat much food either but it wasn't too little), how I will ever make a carnivore month I can't imagine but I still have some hope and trust in OMAD. Less boring with one meal a day. So I focus on timing now. I wasn't hungry at lunchtime today but I start to wonder if I should wear a mask before Alvaro comes home as I accidentally start to eat. I had a tiny lunch and was satiated even in dinnertime when I ate.
500g chicken liver was eaten in 2 days, Alvaro helped a bit but I ate the majority of it. Now I try to take a break from that too.
I keep eating more eggs than usual, of course. I can't keep meat AND eggs low, after all.
I have crunchy keto things, so so wonderful… I should resume my experiments regarding making crunchy keto treats. Pretty hard but I shouldn't give it up. I have those carnivore biscuits, they weren't soooo bad though far from what I wanted.
We had a tiny sunshine today but my sleep time is so shifted I get too little natural light and often just don't go for my usual walk. It's cold and wet anyway but I need my exercise (I was too weak for my workout today)…
Oh I keep forgetting bringing a pic generated by the ai. I prefer Pandora, best style for edibles, very beautiful. I couldn't get proper chicken liver pics from it as FRIED anything means breaded, apparently… And the livers were way too light anyway. But adding "dark" made it black with red decoration so… Here is this, pretty and meat like even if it isn't even remotely similar to my chicken liver: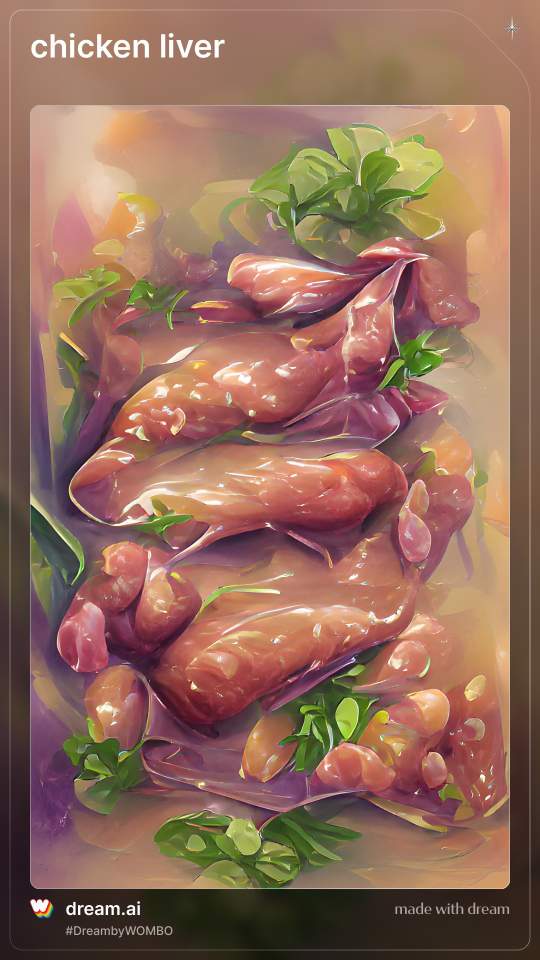 It always adds a little bright green to pink or brown stuff for aesthetics, we should deal with that.