@Fangs How right you are. It's not like I have amazing, rebounding, limitless energy but it's energy that is even throughout the day. If I have a night with less sleep it doesn't faze me through the day like it used to. We are both tired after a weekend like this one, to be sure! I feel like the weight loss has helped a lot too though. I don't say no, can't do anything else, I have one thing planned and the rest of the day I have to sleep. Every day is pretty much packed with things from dawn to bedtime (Mimsy gets me up at dawn, she knows I won't take her out while it's still dark - too many nocturnal critters out there that might find a 9 lb dog a pretty sweet snack.)
Yesterday we had to run errands, one of which was Walmart, but not shopping day, so I wandered around looking for laundry detergent and couldn't help peering at those endless shelves of junk and thinking, sheesh, I'm glad I don't need any of this anymore. I can walk down nearly every aisle in there and pass thousands of products that I have absolutely no use for anymore. It's freeing to see all that and know I'll never need any of it again.
@Shinita Yes, one egg is not a meal, you're right and no way. I usually make lunch for us (sort of an OMAD but we also snack in the evening). I'm not hungry in the morning but by 10 I am and usually aim for lunch to come out around 12:30. I just don't want to get full on eggs at 10 or 10:30 and not be able to eat my lunch, usually better food than a boiled egg… I've eaten a boiled egg as my snack for years. It's what, 60 calories? Then the mayo, whatever that comes to. Just a smidge of a snack that keeps hunger at bay til it's time for a real meal


About mayo. I used to always make my mayo and I would use the lightest grapeseed oil I could find. I actually got the idea from reading about it on this forum in 2019 and have done so ever since. Then with ZC I tried making the bacon mayo and it takes so much grease and it's very heavy, not the same consistency as regular mayo at all. But today, putting duck fat under the turkey skin to smoke it - I thought about duck fat as a base for mayo. I think I'll try that. It does get hard in the fridge and I think needs to be refrigerated. Beef tallow is more stable at room temp but then there is the egg which isn't, so it would still have to be chilled. I'll get another jar of duck fat tomorrow and try making mayo with that. I don't like consuming all that soy oil, it's nasty. But mayo is one of the necessary evils of life. So it's down to creating it in a way that's more sustainable to life


Smoked the turkey today. It was quite good! I don't like white meat much because it's usually dry, but the breast of this one was really nice and moist. Just a 10 lb turkey but there's enough left for at least a couple more meals. I had a leg and thigh, very filling. Gave the breast meat to hubby. I put paprika on it in addition to the salt, got the poultry rub out but didn't use it.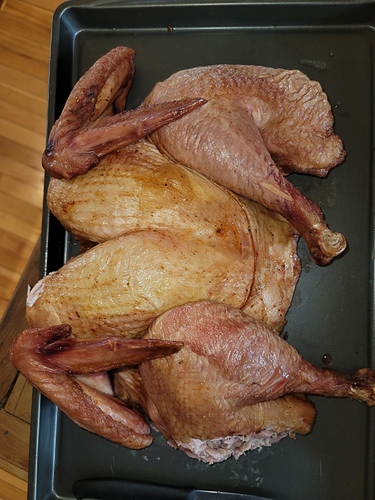 A beef tritip roast is coming out of the sous vide in an hour. That will also give us a few days of meals. Tomorrow we're out running around so will eat in a restaurant.
@Karen18
Hope you feel better soon from that irritating cough.Great to see you relaxing and enjoying life in your retirement!