Nah Fangsy. Ketocarnivore can be carnivore but with checking ketones. So it is carnivore with nutritional ketosis. It's about adjusting fat amounts.
I find that a carnivore WOE without checking blood ketones can sometimes/often not have me benefiting from the metabolic effects of nutritional ketosis. This time I'm chasing the anti inflammatory effects of nutritional ketosis. And joint healing building blocks. So the WOE has become therapeutic as well as nutritional.
There's a balance in there to explore. Carnivore that is ketogenic but not so high in fat that it washes out the minimum 30% protein : calories goal.
Iron
I may have written that on my last blood monitoring tests (a few months ago) that the measure for iron stores was lower than normal range. I think it is the transferrin measurement. My blood levels for circulating iron were upper normal.
A few reasons to mention it now. One was a really good podcast episode on iron in the diet. And just because people eat red meat, it does not mean that you are absorbing, storing and utilising adequate iron. Very interesting notes about dietary improvement impacts on mental issues as have been noted with low carb diets, in general, for many people.
My wife, who is trending back toward vegetarianism after a 10-day Buddhist silent meditation retreat, was iron deficient, then felt better on taking a bioavailable supplement, but now has stopped supplements because she feels ok but hasn't made dietary adjustments. The retreat was OMAD vegan and vegetarian foods. It seems to suit her. We all know that wrangling spouse's eating is better left in the world of the imagination.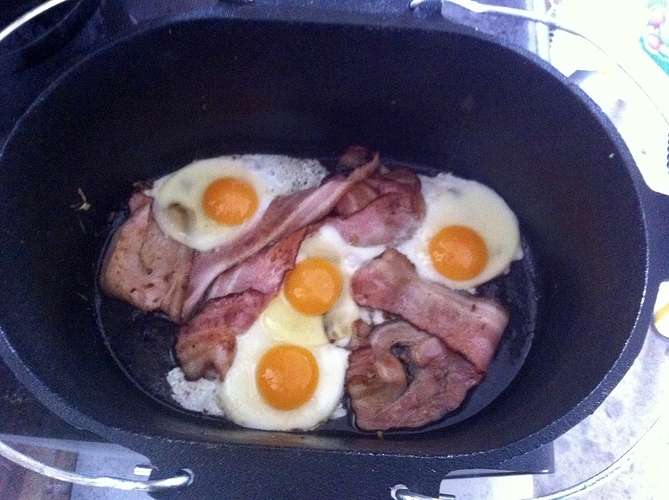 The other part is that I'm cooking my foods in a cast iron camp oven on top of our wood fire stove. The iron from the cookware can get into the food? Picture is a breakfast cook up. Note @Karen18, no cheese! It's late autumn here, so we have a wood fire each night, and on some days all day. We are off grid, so the wood fire provides hot cooked meals and warms the tiny house to perfect reading and writing cosiness.
Last night I cooked a rib eye steak and eggs for dinner. Then added two porterhouse steaks I found in the fridge left over from some visiting surf nephews. And added 3 cuts of osso bucco - beef shin? bone with the marrow bone in the middle of the meat. I browned the meat. Then poured over beef stock. It slow cooked stewed for hours until the beef was falling apart when touched with a fork. Transferred it to a prewarmed glass storage container, and to help cool it before refrigeration, poured over a large jar of cold gelatinous home-made beef bone broth. Now I have a few nights worth of carnivore beef stew to enjoy in front of the fire. No vegetables in this stew and the thickening is collagen from the bone broth, rather than starchy vegetables.
This is interesting Vic. I will redo some maths. The aim is to stay above some minimums. When I reverse engineered my recent 2MAD carnivore eating, it worked out at about 200g. It will take some proper planning to bring that up further. So, I'll have a look at it again.