I haven't fully read back yet, later.
I have a book where the artist uses chiaroscuro, it's so cool…
It was always so mysterious to me but it seems it happens to some people? And some has a tiny capacity to begin with! So odd, our stomach is supposed to hold at least 1 liters of food…
2-4 liters for some people. I am a 2 liter one myself. It doesn't change (well it probably could stretch further if I ate so but it doesn't get smaller), it's my capacity, eating way way smaller meals doesn't affect it. It's another matter how easily I get satiated (and it mostly depends on the macros but not only that) but the fullness of my stomach only comes after about 2 liters. It doesn't really matter, my food is dense

Thankfully I am no volume eater, I can get pretty full with a little (volume wise only!) food. Just not my stomach, it's another sense of fullness…
Not being able to eat a decent volume would be horribly troublesome. Small meals are horribly inconvenient, at least in my life where they easily trigger hunger every hour in my whole eating window (and my satiation isn't so great even afterwards so midnight eating has too good chances).
---
We have a very rainy week. We are close to the area where 1-2 months worth of rain fell in a single day… And that was just one day in the middle of a very rainy period…
I pretty much had enough of it, my garden is swampy here and there, Alvaro went to work on foot yesterday (as cycling is impossible in the forest mud and he needs exercise) and it was bad at the problematic part with the muddy slope…
Yesterday was lovely, no rain and even a few mins of sunshine, I took a walk but it followed multiple rainy days. Like, rain all the time so I can't even take my usual walks. (I am not desperate enough to go in the rain, yet).
Maybe the weekend will be fine, no one knows yet.
After all these days I had to turn on the heating again.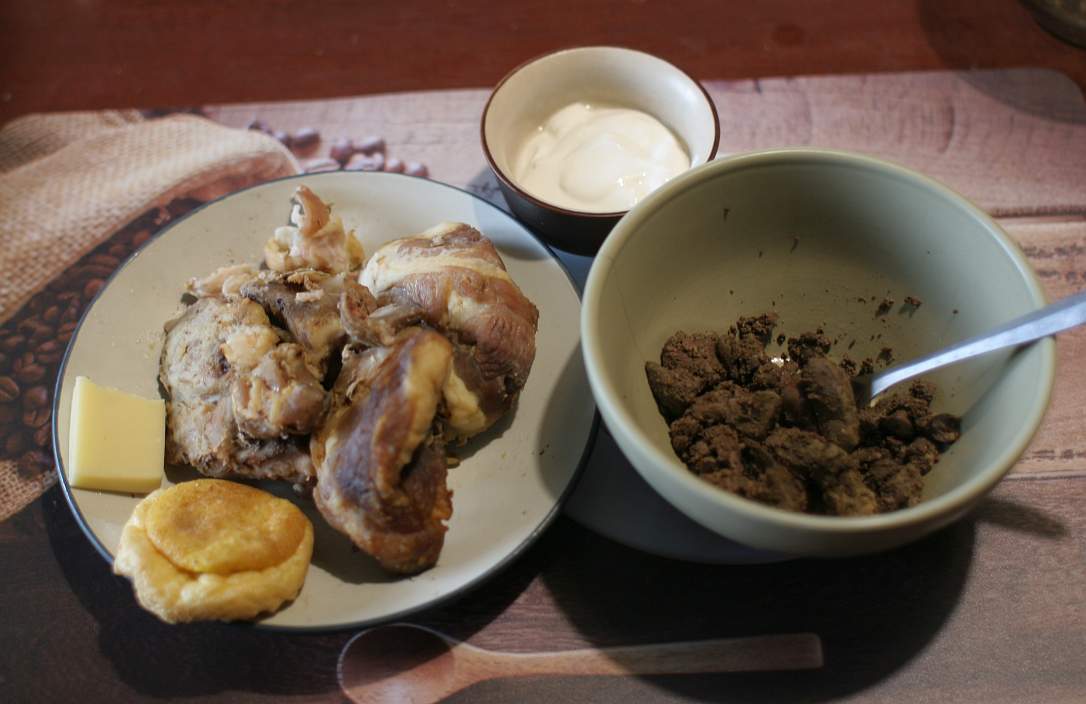 I only ate half of the fried pork as I really wanted to avoid overeating and I planned (and ate)
2 grill sausages (they were good! a cheese and a chili one). There was a bit more egg, with cheese (as I made cheesy fluff for Alvaro again and ate 2). And coffee, triggered by my worse than usual headache. Even Alvaro had headache yesterday and it's super rare, maybe the weather. I know they sometimes affect me but very little and rarely, thankfully. But not getting sunshine for several days, that's already not good for me.
I don't take the no coffee particularly seriously now, I focus on OMAD and try to focus on proper, satiating food to avoid overeating. So low cheese, not too many eggs (= I basically avoid it and only the inevitable few finds their way into my life. I don't make scrambled eggs or boiled ones or anything), very meat based.
I heroically try to consume the big amount of chicken liver fried in fish oil (never again

Alvaro is a dear and offered his help but I told him it's NOT good, I will handle it). A little at a time but now I made pâté from it, only fat was added this far so it's still not good but I told Alvaro to bring me the fattiest little green ham slab he can find. The fattier pieces will become a lovely food and some lean part goes into the pâté. I have proper store-bought pâté too (normally my handmade stuff is the proper one but I didn't master pâté-making yet and I like the store ones), it has twice as much pork than liver (well yeah pork liver may help, I will use that in the future, I pretty much had enough of chicken liver for a loooooooong time. it's just everywhere while pork liver isn't)…
I am fine with a little not so great food occasionally, I don't expect joy from my food all the time, at least not from all of it

I eat plenty of good stuff, my meat is nice. I just need to play with the liver as it's not just not good, it's bad. So good mixing things help.
About 110g protein for my OMAD yesterday and a bit more fat, I can't possibly have much idea about it. But I think it was a good day eating wise. I still feel very full from it but no wonder, it's not even 11am the next day.