My timing is messed up now, I mean, I ate late at night in the last 2 days. It's way better with meat, I can say but I still feel some heaviness in the next morning (I never had that in my past but lately my body doesn't like it. yesterday I was slightly hungry at night and thought why not to try it with good food? even if I feel night isn't my natural eating time. I am merely can eat then and it may feel good at that time). Okay, I will avoid that if possible just like before. It's way, way easier with meat. I just need to eat enough during the day. And that's not that easy with meat now. And cream doesn't count or not much, it seems.
I am very pleased, this thing will get sorted out for sure and I still didn't mess up things. Except the size of my eating window but it's not my main concern now.
But tomorrow we go to the city. Can I visit Alvaro's mom without eating too much carbs? I am not very used to behaving perfectly there yet but I showed some resistance sometimes and especially lately. And now I am more motivated than usual and I am not bored my proper food at all (and I will buy new stuff anyway).
I packed my leftover chuck, some cheese and will bring boiled eggs as well. (And cake with lots of fruit because of reasons but maybe it wasn't my best idea. Though both Alvaro and his mom will be happy with it I imagine and I can guess how it is like as I tasted it last time but it's slightly different. Maybe I should learn to figure out these things from other people's reviews… That's more important anyway, I really have better food to eat. But I will continue to cook/bake for others - baking is for me too as I like it. and I still bake sponge cakes for myself too - and I want to please them. Alvaro is very bad at feedback though he answers if I ask very simple questions like it's sweet/sour/salty enough or fatty enough.)
I put this into the food pic thread too, this is how my chuck looked like today (it was about 400g including my late meal and not including my previous late meal at 1:30am, that was +80g added to my yesterday 400g. my meat consumption shows little variety now, I am curious what will happen later). I found the fatty piece after two too lean ones! No problem today, I loved it even cold. I usually prefer my roasts warm as the fat is nicer then. So this is perfect fattiness to me, I can handle a bit more as well: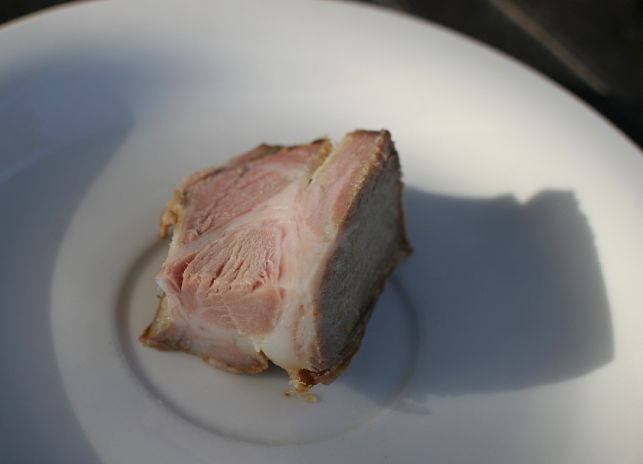 I saw shrimps on sale (I looked at some supermarket ad papers online before our shopping tomorrow). Still expensive and not tastier than my normal food, just different, exciting new variety… Maybe another time. I should figure out what to do with them to get the most joy out of them. I used to eat them in Chinese soups and rice/pasta in my distant past, always in restaurants… I am not the type just to eat them plain and alone, they need something. Maybe eggs. And some extra flavors. I like their own flavor but I still think some extra will do good.
I surely didn't eat them since years.