I accidentally deleted the comment I wanted to send when I will have photos as well… Whatever. No one is interested in my individual days with 3 meals and I write my opinion about beef liver again. It was GREAT. And surprising. It's nothing like chicken or pork liver. It takes little time to be ready for me (I fry all the others into oblivion and an hour isn't always enough if I use the oven), I don't want this one to be brown and I don't mind very pink insides, the texture is different and there is zero hint of bitterness, it is very, very sweet. Too sweet, actually but it's still nice!
Alvaro dislikes it. He only likes fowl liver, he said. (He said dinosaurus, whatever.)
(Oh I forgot but it's fun: he visited the hospital for the last time, hopefully and the doctor praised his "healthy, beautiful brain" especially the vein system providing blood.)
February wasn't carnivore to me but I tried and the end was pretty good. Still not perfect, I need to be stricter as almost always (I only felt after the first half of November that i need to be less strict but I had to try that and being stricter is safer anyway. it's hard to be just a bit relaxed and not going further, at least for me).
I did the big jump and now I really use a proper amount of meat and try to limit dairy seriously, it's not easy as dairy is important for me but my pork+egg days are working.
So things go into the right direction.
I am hopeful my whole March will be pretty good, I finally start to get the hang of it again and my life isn't that stressful as it was.
I dared to step on my scales again. why am I 5 kg more than in December I can't imagine, seriously. I am not that far from my highest weight ever. When I was this weight, I easily lost fat eating 80g carbs a day and being very inactive (I always walked if nothing else except those times). I can't stay here. Of course I have no idea if I gained some muscles, I probably did but it can't be significant. Whatever, i don't want to think about it as it does no good. I just want to eat properly, the right things and in 1-2 proper sized meals a day, only that feels right.
Some of my not eating plans for March (but everything is connected): earlier bedtime and properly doing weighlifting again. My energy is too low in the morning again. My mood is fine and I feel alive when it's late enough but those long mornings…
Eating plans? No change, I continue trying to be "strict". Very nearly only eggs and meat.
I don't try to do absolutely anything with my macros (trying never helped anyway), they will be perfect as long as I eat properly and not having too many meals (but maybe even the latter isn't a concern if I am really strict. it's amazing how small things may mess things up. I know I can handle a little extra but what counts as little…? it would be safer to be strict but it's pretty much against my core personality. we will see).
But now I started to eat a bit fattier, I am curious if it will work better. It surely makes my meals bigger, that's a good direction now.
Our fridge has space problems again. Not the freezer, the normal part. I kept Alvaro from making a third plant-based dish (he cooked 2.5kg green peas and maybe 2kg potatoes already and was ready to make beetroot soup too… nope. and these are just the side dishes, well the soup is soup. so even with these, much more cooking is needed for every meal), I can't even cook a soup as it wouldn't fit. I am glad if I can squeeze in the roast! We simply need one of the biggest fridges for us two and our is smaller. Big but not that big.
Photos! We have a nice sunny day today as well, windy though. We saw the first pasqueflowers and we have 3 bunches of crocuses! I put the flower photos in the "what did you see today" thread later.
Sausage and beef liver, it's Alvaro's meat plate for today, actually. But I ate one of the liver pieces. These are a tad better fried than mine.
The sausage was tiny (this is half of the total amount per person) but great.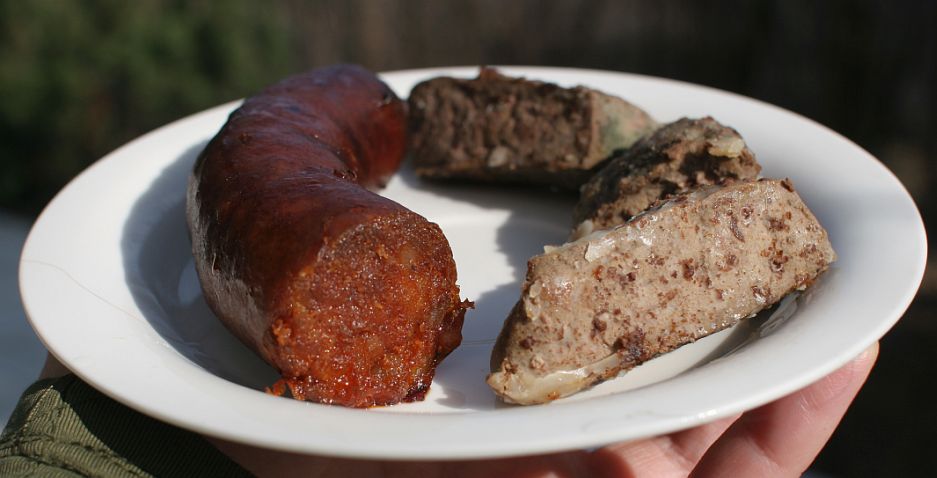 My beef liver from yesterday, it was late so artificial light in the kitchen and me not putting much effort into it.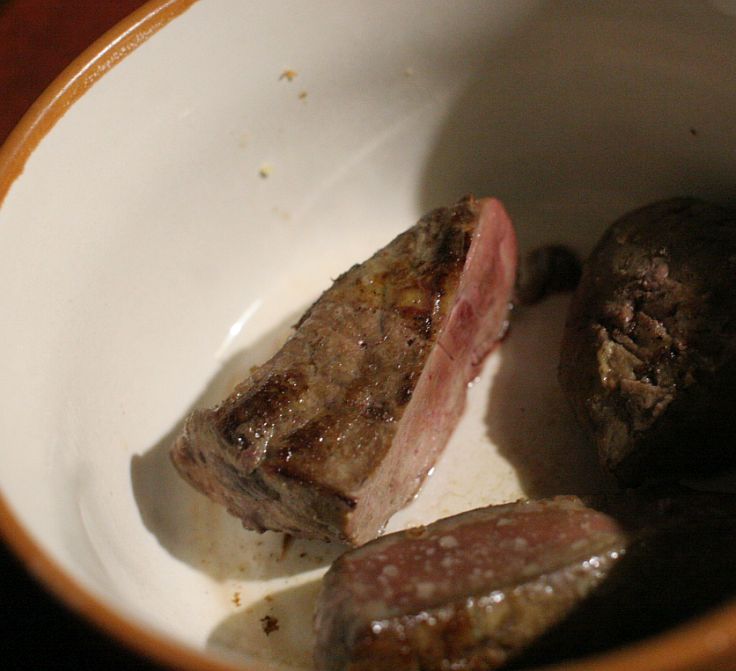 By the way, I made pear jam today, to make space for other jars, we had to preserve some vegetables this week. I am extremely good at not tasting properly the jam I make anymore, it wasn't the case a little time before. And pear jam is great for my pancakes, actually. I just don't want it more than something else - I have even head cheese now in thin slices! best stuff for my pancakes - and pork wins over everything else almost all the time. Sometimes I want eggs more than pork but it is typically after a lot of pork… I wonder if this changes on March, I plan to eat much pork every day.