Aim:
Materials
Test meal: 680g (1.5lbs) rib eye steak, small amount rendered tallow. Fresh water as drink.
Blood Monitor: Freestyle Optimum Neo.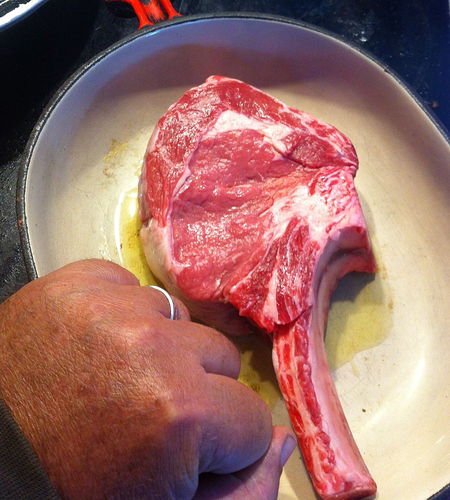 Method: Steak baked in oven. Rested. Eaten.
Data:
Blood glucose. Pre-dinner: 5.0mmol/L (90mg/dl)
0 minutes (meal finished): 5.1 mmol/L
15 min: 4.7 mmol/L
30 min: 5.2 mmol/L
45 min: 5.2 mmol/L
60 min: 5.4 mmol/L (98mg/dl)
75 min: 5.5 mmol/L (99mg/dl)
90 min: 5.2 mmol/L
120 min: 5.1 mmol/L
Pre-dinner blood ketones: 0.1 mmol/L
90 min blood ketones: 0.1 mmol/L
Results:
Blood glucose initially dropped in the first 15 minutes. Then rose to 5.5mmol/L at one hour and 15 minutes after finishing the meal. The experiment was closed at 2 hours after the meal when a baseline blood glucose was achieved.
Interpretation:
Eating a 1.5lb rib eye steak did not create a large blood glucose rise within 2 hours of eating.
Discussion:
I actually used two blood glucose monitors and two test strips per blood test. This was to monitor accuracy of data collection.
A standard blood glucose curve is done at set time increments after a meal for 2 hours. The 2 hour point is chosen based on the work of Dr. Joseph Kraft. Blood glucose should return to a normal baseline level within 2 hours based on Dr. Kraft's work (requires reference) in a metabolically healthy person. Persistent elevated blood glucose is a symptom of glucose intolerance that may correlate with insulin resistance.
However, the blood glucose curves for a protein based meal may have a different graph than for a meal containing carbohydrates. The blood glucose curve peak may occur outside of the 2 hour experimental window. Wearing a continuous glucose monitor (CGM) is the next improvement in experimental design.
The results show that eating a 1.5lb rib eye steak did not create a blood glucose rise above baseline to indicate "over nutrition" as a possible consequence of the meal.
The blood ketone readings are interesting. My blood ketones are usually lower or zero when eating a zero carb or carnivore diet. In this experiment both readings indicated a trace of blood ketones present. This was tested using two monitors per test. Having blood ketones present at the start and end of the experiment is open to interpretation. It may just be a steady state in the blood stream at the time of the experiment with the blood ketones not being taken up by tissues due to a slight increase in blood glucose being available.
It may indicate that the amount of blood ketones being produced by the liver in the two hours was balanced by the rate of cell uptake, thus producing no nett change. If that were the case then it could be correlated to a low insulin response to the meal because an insulin release will switch off blood ketone production by the liver. These thoughts raise more questions.