Ok, so I wanted to show this. … I have an app on my iPhone (Work issued Phone) that I really don't use, but at times I check it out just to see what it shows. It's the Health app that I guess came with the phone? Anyway, I've been walking more again these past few weeks, now that I'm back to work. So I do at times check just to see how many steps it shows. - But when I got to work this morning I decided to take a walk for about 20 minutes before starting the day. Then just a little while ago, stepped back out to walk 30 minutes before eating. So I checked it, and it tells me "Last week, you were taking more steps a day than you are this week" … What?

… I mean, it's only MONDAY and just Noon, how the hell can it tell me this based off the first day in the week.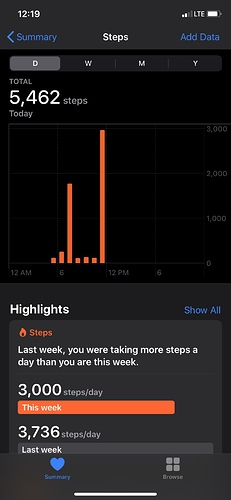 And I always find this amusing… It tells me this each and every time I look at it. Under 'All Health Data' "Headphones Audio Levels" LOUD (7-Day Exposure) … This is because, well, I am usually listening to Music everyday with my AirPods. And yes, it's probably a bit on the louder side, but that's so I can hear the Music while I'm working. Whether at home in the Garden/Yard/Basement, or in the office. Just don't know what is considered TOO loud according to this little app?