Though it shows I joined this forum mid July, I've actually been reading through a lot of post on this site since back in early June. (Lurking?) But I guess my first register didn't take/work? But I've found this forum to be an excellent source of information and overall a great site, with a group of great people. (which is not always easy to find)
Anyhow, after reading through other's threads, I decided that maybe I should go ahead a create my own thread too. One that I can come back to, update and simply create a history, etc.
My background:
Basically I grew up as the husky or chubby kid in the group, and always thought of my self as that person, even if it wasn't always that way. So I also think this can become a mindset as well? I remember thinking that I was even overweight in high school. But from looking back at pictures, and having my wife tell me that I wasn't that big, I think that maybe I just always felt overweight. … Here's two images from back in 1983, which was the first year my wife and I started dating… Sorry they are old pictures.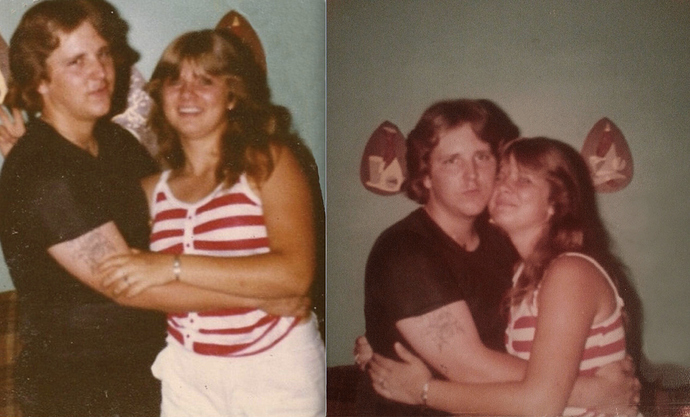 But as far as my weight, it increased along with the years. I started out in construction and worked very hard every day. Even when I became an equipment operator, I still worked hard doing construction. It wasn't until 1991 that I was pulled into the inspection division, and activity levels started dropping more and more with each year. … I started working with computers, and soon became someone that they would constantly rely on and assign any large scale, specialty or important projects. This simply tied me up in front of computers for days or weeks at a time, and activity levels just slipped further away. … _Though I'm self-taught in computers and pretty much anything else I do (which I do take pride in) I'm now still the only person performing these kinds of task, such as GIS so I am often inundated with projects that keeps me behind a computer all day. - Not only helping the IT division when it comes to servicing my departments computers, I've been doing all GIS related duties for nearly 20 years now. And have pretty much become the data source for all our departments, as well as our 3 or 4 sister agencies.(Hence the name, Digital Dave) Though I also do digital artwork, and go by the same name, a few fellow inspectors started calling me that, since most would call me before the IT department when they had issues.
So I've been with the Government for over 34 years. - As the Chief Inspector, I now oversee the inspection staff, but also the computer related stuff has never stopped. (Mostly GIS, Excel and PowerPoints) I'm relied upon even more now, and though I've been trying to pass along my experience and basically get other folks into this type of work, I pretty much am behind a desk every day, all day.
Also, as I've read others mention, I myself have never been a person to try a bunch of different diets. At most I tried to eat foods I thought were better for me such as fruits and vegetables, (Which I'm now learning are also high in carbs) or occasionally used Slim Fast to replace meals. But this was more due to not liking to eat many times a day, So I love that I can only eat once a day now, and it works due to eating Keto-Friendly foods.
So my best guess as to my weight over the years is:
High School - around 185-190
Around 30 years old - 240-250
Around 40 years old - hit 290 and pretty much stayed between 290 - 300 for the next 10-12 years. Bouncing back and forth between those numbers.
But in the past year, with activity levels at an all-time low, I gained an additional 20 pounds, putting me at my all-time high of 320 lbs. (And I was really starting to feel it for the first time)
So my starting weight before Keto was 320 lbs. and today at 12 weeks in and being a weigh in day, (Sundays) I'm presently at 274 lbs. and counting.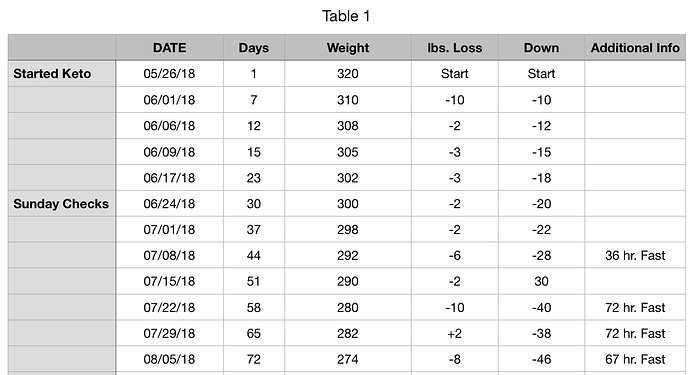 When I was at 8 weeks in and 40 lbs. down, my wife said I should have been taking photos to document my loss. (And she was probably right) but I never did, though I wish I had. I reminded her that there was one picture I took within a couple weeks of starting, and I was probably 315 - 320, so this will be the only image I have as a before image. … I will find it and post it later once I do.
Lastly, I just wanted to mention again how great this site is, and I have learned so much already. I don't belong to a lot of community sites, but I can't image they get any better than this one, full of a bunch of amazing people. I'm very glad I found this community.

Sorry for the long post.

I tried to keep it short…