This subject is very vast when getting into diabetes, macrophage infiltration of adipose fat cells and mitochondrial damaged adipose cells (…or the few existing ones inside it?); and starts expanding out into BAT:
Question: "…Fat cells and glucose. How does it work? Sometimes it is claimed there is no glucose uptake by fat cells. However, brown adipose tissue does this. So? …" …More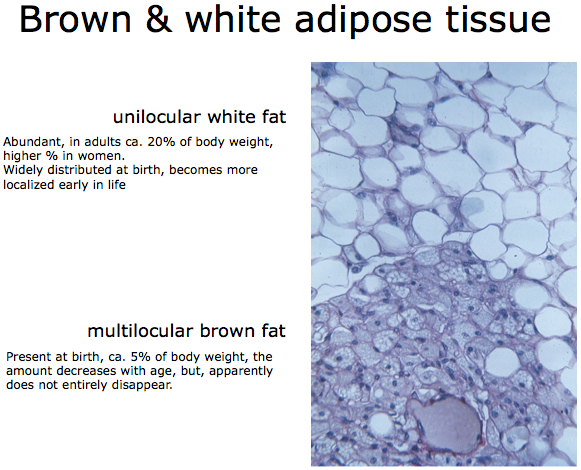 image link (above two):
Note:
notice how the lipid droplets are smaller and tinier and floating freely within the brown adipose tissue (BAT) with lots of iron rich mitochondria surrounding the smaller lipid droplets compared white adipose tissue (WAT)? (
something is not right about that, considering the recent time frames of history like the invention of the microscope to peer in to see what it (…lipids, mitochondria etc.) looks like and recent inclusion of junk food or highly refined and processed carbohydrates (empty calories) and its impact on the health of human beings?
) - Bunny (
see also my post on OCT 3
)
Notes:
[1] "…Studies using phospholipase C digestion of red blood cell membranes have been used to demonstrate that the major portion of the *phospholipids and proteins in membranes can change physical and chemical structure independently, and this has been interpreted as evidence for the mosaic pattern model of biological membranes (15, 21). The present studies indicate that some important properties (binding function) of the insulin receptor of liver and fat cell membranes are not affected by removal of membrane lipids. It will be important to determine whether the properties of the isolated and solubilized insulin receptor will closely resemble those of the receptor in its normal environment in the cell membrane. These studies are currently in progress. …" …More
[2] "…The concentrations of IGF-II required for half-maximal and maximal stimulation of glucose transport in human adipocytes are 35 and 100 times more than that of insulin. The possibility of IGF-II stimulating glucose transport by interacting predominantly with the insulin receptor is suggested by the following: 1) the concentration of IGF-II that inhibits half of insulin binding is only 20 times more than that of insulin; 2) the lack of an additive effect of IGF-II and insulin for maximal stimulation of glucose transport; 3) the ability of monoclonal insulin receptor antibodies to decrease glucose transport stimulated by submaximal concentrations of both IGF-II and insulin; and 4) the ability of IGF-II to stimulate insulin receptor autophosphorylation albeit at a reduced potency when compared with insulin. …" …More
[3] Inhibition of glucose transport in fat cells and activation of lipolysis by glucocorticoids.
[4] "…Researchers discovered that when the LRP1 receptor was active, adipocytes absorbed more fat and triggered a series of cell-signaling activities that caused the body to increase overall fat storage. Although both groups of mice were fed the same low-fat diet, the LRP1 knockout mice stored less fat and experienced no significant weight gain. "This shows that LRP1 is a critical regulator of lipid absorption in fat cells. Functional disruption leads to fewer lipids being absorbed into the cells and transported throughout the body," explains Susanna Hofmann, first author of the study and pathology research instructor at UC. "Preventing these interactions in our model prevented the onset of obesity and diabetes." …" …More
[5] infographic image links:
image link
image link
image link
(must be a lot of sugar {highly refined and processed carbohydrates} in that mouse chow?)
image link
image link
image link