@Karen18, ohhhh on the crazy now on your paperwork and process! Someone NEEDS to truly get this settled for you…wishing you the best and fastest way to get this done done done for you.
I cook my steak like you. I put it on a very very high heat pan, sear the hell out of the outside, cause I love dark crisp char and flip fast and take it off and the char dark outside looks like it is well done and overcooked but when ya cut it, damn near raw inside and to me that is the most delish!
@Shinita, for the 'health food stores' think about your bigger supermarket that is in your bigger city…then reason they are kinda called 'health food stores' is that they gear more at all organic products, organic produce, they also have more products that are like 'fancy and pricey from companies that work with chefs and more to offer 'quality organic products' and all that jazz…so just a jacked up supermarket with fancy organic products and boy oh boy the prices can be very high. I avoid our stores like Whole Foods, or EarthFare and others cause I just can't afford to buy in those stores.
Mow the weeds



I gotta mow the weeds around the pool and fence lines here too!
@JJFiddle, that is wild, our Plugra is more a taed more than our KerryGold in my area…what? lol Stores sell alot of Amish butter around too and it is pricey. I tell ya my cheapest butter from my local chain is best to me

Eat the chicken or the egg, ya had me laughing on that one! great pic!
my dog never liked treats like milk bones and all too. nice to not buy that junk anyway, they are pricey for what they are, feeding crap to them. I remember when he was a pup the vet gave him a treat and he wouldn't touch it, I said, hey he eats meat only and the vet said it 'wasn't a good balanced' diet and I laughed all the way home thinking omg my vet this it isn't good to feed a dog real meat? wth? I tell ya…
I bet you have to be happy to be home and off the road even tho your wedding gig seemed real cool. But it sure is nice to 'land home' and relax a bit I am sure!!
-----------SO SO LOOK AT THESE RIBS I bought that were absolutely horrible. Ate only 3 and in fridge, probably to throw out. Hubby tasted one and said he ain't eating them LOL What a waste!
I hit a new store on way home from running errands/banking etc. and saw this rack of smoked ribs and thought yum. No fat on them. Dry as a bone literally. Smoked bark is shoe leather to the ultimate. I love the rub, very very mild, easily good for zc me, but the meat itself is just toast. Over smoked to oblivion. I am never ever ever buying ribs again. Make my own. Last few times on this product I just found they suck rocks so no more. My own ribs, simple as that here on out.



It breaks my heart I am gonna end up throwing out most of this but in the end, when meat sucks, I just can't eat it…and I learned now…done deal bothering trying to buy something I can cook better at my own home! ugh
Today I got a big ol' value pack of chicken wings going into the oven.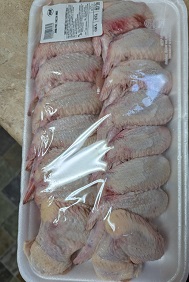 Will sprinkle a little cajun spice on a few, lightly

and sprinkle a small bit of rotisserie chicken mix on a few and cook some plain. So I get 3 tastes of wings from this pack…All for me

Good to have in fridge for fast leftover eating.
got burgers also to eat today. chicken and burger is a fine zc meal combo in my day.
OK that is my zc and pics for the day! Everyone eat well!!