I want to state up front that I am not advocating anyone drink ethanol. I personally don't care whether you do or don't. I think adults can make their own decisions based on relevant information. So please consider this simply some input into the category of relevant info. With that out of the way, here's the metabolic pathway(s) for ethanol. The primary pathway is via ADH. But whichever pathway the end result is the same, acetaldehyde: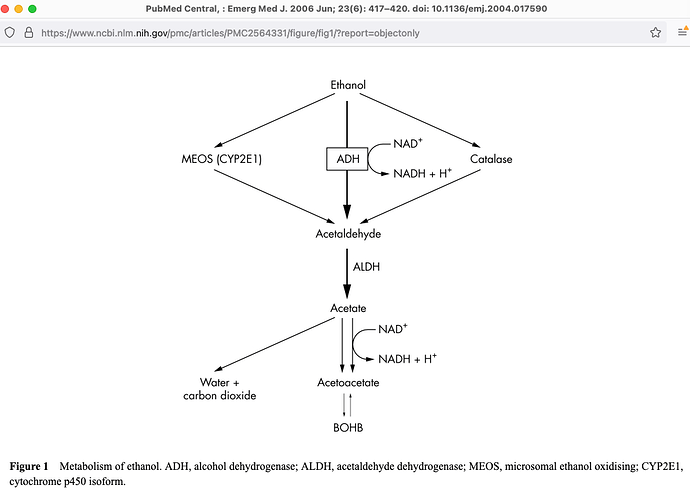 Source of this diagram is this article:
Brief Discussion
Ethanol metabolizes ultimately to acetoacetate, water and CO2. From a keto perspective, what's not to like? For starters, a couple of things. The NADH : NAD+ ratio increases and ROS is generated. How much so of each is dose dependent and individually variable. Neither of these is beneficial, but ethanol is not the only stuff that does this. If you keep it low level you can cope as well as with anything else that does it. Also, your liver tends to concentrate on metabolizing ethanol to the exclusion of anything else until the ethanol is gone. That includes fat. But how big a deal is that when the end products of ethanol metabolism include ketones? Once all the ethanol is gone, the liver recommences metabolizing fatty acids and generating ketones from them just like it was before you gave it ethanol. This might be an issue when you're trying to lose body fat and you keep interrupting by feeding your liver ethanol instead.
As I mentioned, the negative consequences are dose dependent and individually variable. If one is drinking 'heavily' and consistently the bad consequences outweigh any potential benefits from generating some ketones. In fact, the article from which I lifted this diagram discusses one potential fatal consequence: alcoholic ketoacidosis. This, however, only occurs in alcoholics drinking huge amounts of ethanol and not eating much of anything else.
If instead one imbibes only small amounts occasionally and does not exceed the liver's capacity to cope healthily with the transient bump in NADH : NAD+ ratio and ROS, you can probably continue to drink and not damage yourself doing so. Of course, individual variability can make determining what's safe and not for you challenging. Start low. Finally, I'm talking about pure ethanol here, not beers, not liqueurs or mixed drinks that contain carbs or sweeteners.
And in case it's not perfectly clear, I am also talking about 'small' amounts ingested at 'sufficient' intervals to give your liver and overall metabolism time to metabolize, move on and recover from any affects of bumping up your NADH : NAD+ ratio and ROS; and any other side effects. If you've already damaged your liver from prior years of abuse, this is not a prescription to fix it.