So for months on youtube there has been a spate of experiments with an enormously popular recipe from the "molecular gastronomy" world. Cooking is always chemistry and chemical reactions, but some are more unusual or impressive or convenient than others. Using an approach normally used to make fruit-juice caviar by high end chefs, there is now a keto spaghetti (pasta-ish) that will blow your mind.
And it's stupidly easy. And the batter keeps. And the noodles keep. And they both freeze and thaw just fine. And the noodles can be eaten normally, or stir-fried, or baked, or… suffice to say, I consider it one of the more exciting 'menu expansions' the field has had for a long time.
(The guys that run this forum have a very cool pasta-ish flat egg noodle recipe as well. But this one is something completely different.)
Into a high speed blender, toss your arbitrary collection of protein, spices (and a couple other things to follow).
I have seen cooked chicken, cooked beef, hard boiled eggs, spinach powder, protein powder, all be used to make this, and quantity varied. Room for flexibility it seems. I used:
3 cups water (good drinking or distilled water)
(that's the base, then add whatever else)
3.85oz canned chicken meat (drained)
2 Tbsp collagen hydrolysate
1 Tbsp eggyolk powder
1/4 tsp granulated garlic
1/4 tsp onion powder
1/4 tsp paprika powder
High speed for a couple minutes you want it totally liquified.
Then while blender is running:
1/2 tsp xanthan gum
blend for about .5-1 minute high speed
Then while blender is running:
1 Tbsp sodium alginate powder
blend for about .5-1 minute high speed
Next step variants:
Easy way: pour it into your dispenser bottles.
Original way: pour in bowl, let sit for 30+ minutes, scrap top layer of foamy bubbles off carefully, then pour into dispenser bottles.
Risk of easy way: you might have a few bubbles interfering with your squeezing the stuff out neatly.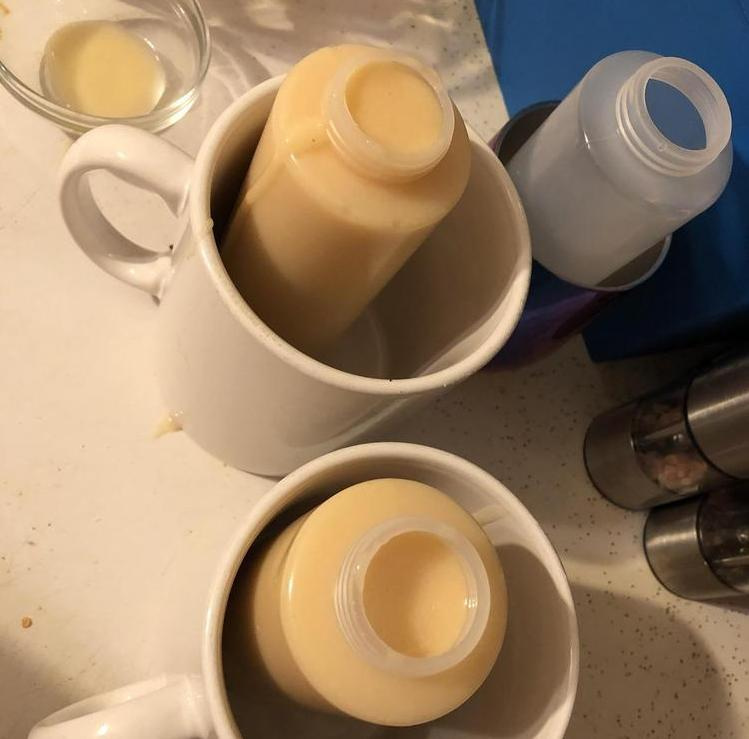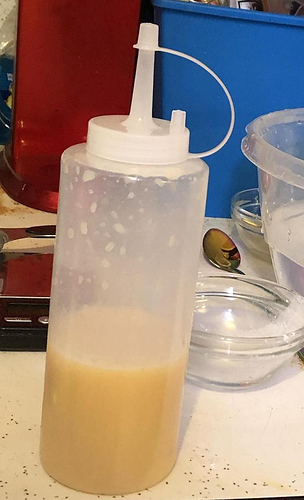 You can do the next step now, or within a week if you store the batter in the fridge.
Maybe harder way: Put 7 cups water into the biggest bowl you have. Add 10g-20g of calcium lactate powder. (10g is recipe. I did that, and then 20g, made noodles MUCH bigger 2nd time. Texture was better 2nd time. Not sure if it's noodle size or lactate amount but I figure it doesn't hurt to be in the middle). Stir until dissolved, it will become clear. I was told that cold water works a bit better but that does make dissolving it harder so instead"
Easier way: pour 7 cups water the calcium lactate into clean blender, blend 30s till dissolved fully, then pour that into bowl. Do that BEFORE you make the noodles to simplify (blender is clean then) but be sure you rinse the blender after!!
In the bowl:
While stirring slowly to keep the water moving (keep your stir tool near middle of bowl so it's not in the way), on the edge where the water is moving most, squeeze out your batter. The moment it hits the water it becomes a noodle. When bowl is getting full, put noodles to the side in a bowl to make room to do more. When fully done, put them all in that water and put it in the fridge for a few hours to firm up more.
They are ready to eat when you are, however you like.
This is about 1/4 batch. You see how the pressure I used in squeezing made the size of the noodle vary so much.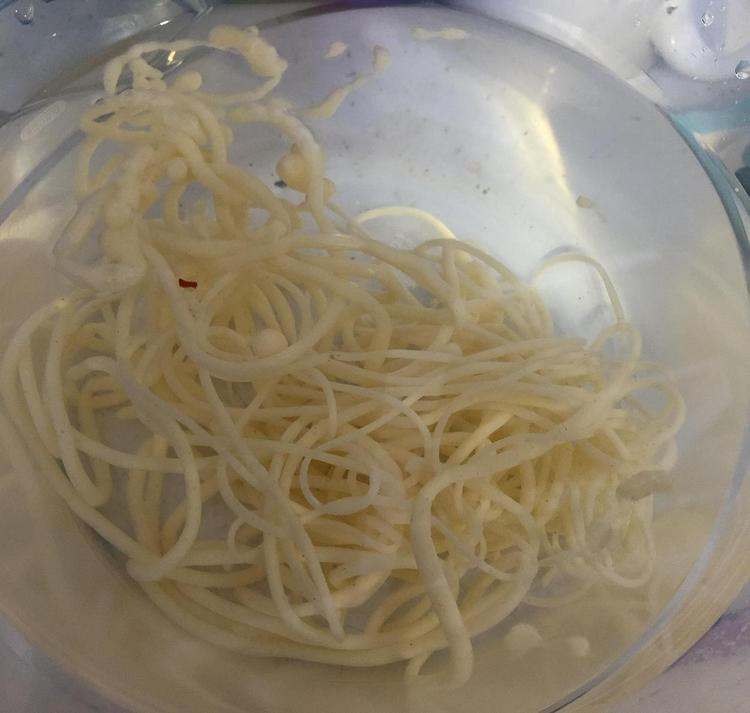 I used some batter for this that I'd left in the fridge for a few days as a test. Tonight or tomorrow I'll be using the defrosted batter I had put into the freezer, to test that.
Various channels have tested cooking these in various ways. So far, dehydration is a fail, but baking, stiryfry, and just mixing into your soup or meatsauce works just fine.
I'm astounded this works. It's like freaky magic. And they taste fine which is even weirder. But the texture is incredibly good, bit stretchy, just… it's worth trying. The specialized ingredients do cost, esp. outside the USA. Lots of youtube videos on these in the keto world if you want to search.
If I get the very-modified-psmf breadish recipe to my liking, I'll be on the meaty spaghetti and garlic bread diet.

Best,
PJ