Originally published at: http://blog.2keto.com/recipe/smoked-tomato-sauce/

This is not the only tomato sauce recipe I have - for example this one EasyLoCarb Tomato Sauce is much more involved, but better to use as a condiment as it's stewed and has a more developed flavour.
This one is my easiest "go to" recipe for making a tomato component to use in other recipes, such as Tomato glazed chorizo for Tapas.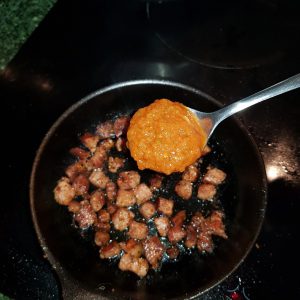 [wpurp-searchable-recipe]Smoked tomato sauce - - tomato (70g of pulp), Fresh Basil (around 3g), Fire Roasted Red Peppers, hickory chips (for the smoker), Peeled Tomatoes: Score a cross at the end of your tomatoes, and dip them in a pot of boiling water for 1 minute so the skin becomes soft and peels easily; Prepare a tray of peeled tomatoes; Smoked Tomatos (optional): Hot smoke the peeled tomatoes for 15 minutes. We use a dedicated hot smoker, but you can also use a smoking box on a BBQ with a hood.
You can also just bake in a hot oven until they start to collapse, and add a little liquid smoke, or Worcestershire sauce to fake smoking them.; You can also skip peeling them before the smoker, and peel them afterwards. They will have less smokey flavor but it's easier to pull the skins off after the have been smoked. (also notice I am smoking some chillies you can use these later in the recipe or just buy a jar of fire roasted chili-peppers); After smoking blitz the tomatoes in a food processor, and transfer to silicone ice block molds to be frozen until you are ready to use them.; Tomato Sauce: Prepare the ingredients - for one batch that will make about a cup of tomato sauce, I use the pulp of one tomato (2 ice blocks in this case - or roughly 70g), about 3g (5 leaves) of Basil, and 10g (2 teaspoons) of fire roasted chili-peppers.; Nuke the smoked tomato ice block to thaw it, and warm it; Add the roasted chilies and blitz this mix thoroughly.; Add the Basil and give it another blitz … taste it. Tomato loves salt and pepper so make sure you season it to taste.; - [/wpurp-searchable-recipe]