Lovely Boxing day with my Sian and her Dave and my son Ben. I cooked the lamb leg and I can't tell you just how tender the meat was. Sian cooked the turkey the day before and warmed it through yesterday. Far too dry and it was just the breast which is always dry for me anyway. Too lean as well. Not complaining really she put on a lovely spread and put a lot of time into making our day a lovely one.
So for me she made some sauted prawns in garlic butter for me while they had prawn salad with dressing and for main I had lamb turkey breast a couple of pigs in blankets and I made mistake of trying a bit of pork stuffing. Can't believe it was so sweet, could taste sugar in it hence I didn't finish it. Helped myself to a bit more lamb and picked on a couple more pigs in blankets while still at the table. Later had a morsel of cheddar. Didn't eat a whole lot really and certainly didn't feel stuffed. Sian made me take home the lamb which I would readily have left as I am not so keen on cold lamb but nothing will go yo waste. I had another slice last night.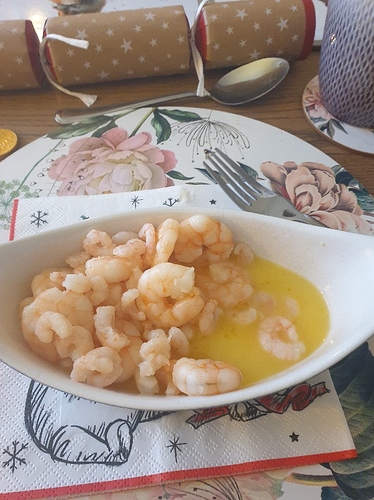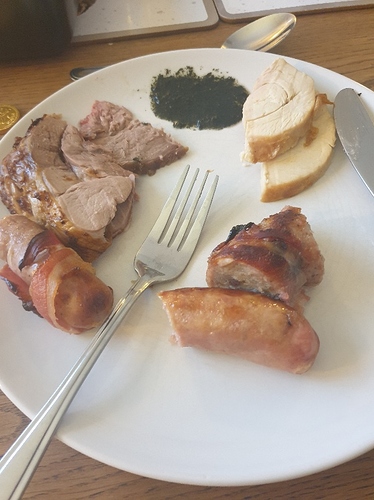 This morning I cancelled the CrossFit session I booked as it was another 40 min cal row and snatch workout. Just didn't fancy it and I also had a bit of a funny tum which I will put done to the stuffing and the bit of mint sauce I had with the lamb.
Did a full 100 stair runs though and really pleased I broke through the, I can't be bothered barrier! Eaten a couple of slices of lamb for brunch and a slice or two of cheddar. Ribeye for dinner later. Tummy fine now.