Originally published at: http://blog.2keto.com/recipe/richards-shui-mai/

Shui Mai is such a staple of Cantonese Dim Sum cuisine that when Chinese immigrants first came to Australia in the mid 1800s gold rush they made a rough version of the Shui Mai of their home cuisine using ingredients available on the Australian goldfields and the Aussies called it a Dim Sim. It has since become an Australian classic.
But the classic has always been the best. Unfortunately, when make properly it uses carby wonton wrappers, and is gelatinized using corn starch. We're going to use Cabbage to replace the wonton wrapper, and use the proteins in the meats themselves to set the dumpling.
Of course we can add all the nice touches like fish eggs as a decoration - those are perfectly keto.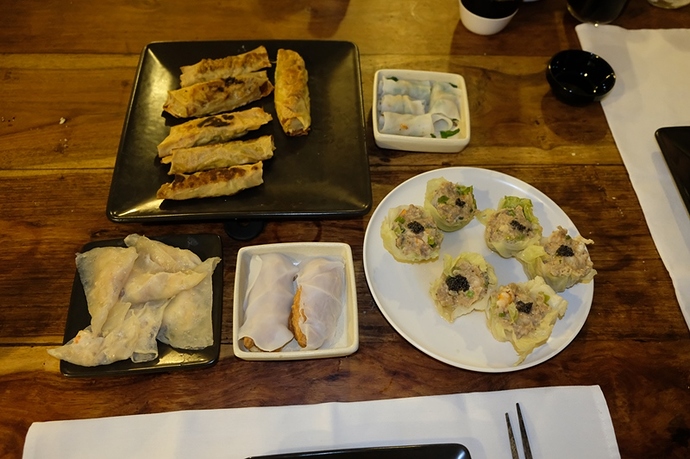 [wpurp-searchable-recipe]Richard's Shui Mai - - Cabbage, Salt, Pork Mince, unpeeled raw prawns (shrimp), finely grated root ginger, finely grated raw garlic, Sesame oil, Shaoxing (Chinese cooking sherry), Light Soy Sauce, chopped spring onions (or scallions or shallots), Macadamia Oil (or other neutral oil), Baking Powder, Salmon Roe or Caviar, Peel the prawns (shrimp) reserving the shells; Fry the shells in a fry pan with the Macadamia oil, to extract a prawn head oil. ; Strain the fried shrimp shells to produce roughly a teaspoon of the liquid gold that is prawn head oil; Soak the peeled prawns in water alkalized with the baking powder, and set aside in the fridge for 30 mins. This will cause them to plump up and remain juicy.; Add Pork mince, Ginger, Garlic, Sesame Oil, Shaoxing wine and mix well, then leave it too in the fridge for 30 mins for the proteins to break down a little and the mix become more gelatinous.; De-core the half head of cabbage; Add salt to boiling water in a pot with the cabbage and boil for 2 mins until the leaves start to wilt and you can separate them from the head with tongs.; Add chopped onions to the Pork.; Drain and wash the prawns. De-vein them, and chop them into 1cm chunks. And add them to the marinated pork mince … mix well.; Push the cabbage leaves down into a silicone muffin pan to replace the traditional use of wonton wrappers; Spoon in the pork/prawn mixture into the cabbage cups and trim them with kitchen scissors. You can add a small amount of salmon roe or (pictured) caviar to the center of each dumpling.
note we had a little left over stuffing mix so we used a cabbage leaf tired with a chive which could be an alternate method if you can't find a silicone muffin pan that fits into your steamer.; Steam in a bamboo steamer for about 15 mins or until the dumplings when pressed are firm.; Remove from the steamer, and plate for presentation or just serve them in the steamer.; You can serve with a soy sauce dipping sauce, or a mayonnaise with a little of that prawnhead oil added to give it flavour.; - [/wpurp-searchable-recipe]