It is not what I think, it is what I know!
Your probably thinking of a definition or playing on definitions to define something in its entirety? (don't forget there are other things in those compounds and substances your defining as carbohydrates that are vital to the life of all creatures on the planet including us)
So your idea is to define everything as a carbohydrate therefore it's BAD if it is not meat or fat? (what you would like everyone to do? NO? YES?)
Vitamins, minerals & trace elements:
All (variety) Whole Foods are essential carbohydrates for the human body not because they are essentially a carbohydrate (that is only one definition) but because of the micronutritional values and the combination of amounts contained in perfect ratios within plants, fruits and vegetables (that also includes the micronutrients contained in meat and fat and whether or not it is grass fed or free range like chickens and eggs etc.)?
The human body can store some of these micronutrients up to ten years and others it does not store, there is a delicate balance of ratios that go into the digestion process and the chemical conversion synthesis the body uses to convert those micronutrients into other micronutrients in vegetables, fruit ( that includes meat and fat) including the way those various types sugars are processed (exogenous vs. endogenous production), when you remove those micronutrients and fiber from the sugars and just eat the sugar that is what causes the problem and thus the fear being exploited in various dietary science circles?
When the human body does not have enough micronutrients from combination of plants; vegetables, fruit, protein and fat it can cause breaks in the chromosomes when the body cannot produce it on it's own after a period of time.
For example vitamin B-12 comes from herbivores eating dirt (soil based probiotics/microbiome) and plants where it is fermented in the gut[8][9]…
Some of these micronutrients are in meat but not all[1], just because you eat meat that does not guarantee you will get micronutrients from that either, because you are essentially eating what ever the animal you are eating ate but you are cooking the meat (a true carnivore does not cook the meat it eats, not intended to eat cooked or processed foods), so why can't you eat what the herbivore is eating? That makes no sense being you are an omnivore? You can eat only meat and fat to the point where you don't require vitamins but that's placing yourself in grave danger of chromosomal damage shortening your life span considerably? The other problem is over-eating protein and throwing your nitrogen balance off and damaging your kidneys to where your losing lean body mass and bone density with time because of the acidity…
I want to make it very clear I'm not advocating to eat one way or the other, I'm simply demonstrating what your up against if you try to take this into any public domain dealing with dietary guidelines and public health anywhere in the world?
That said you better know all the answers to the other side of the tables equations or your going to end up looking real stupid?
Footnotes:
[2] "…As long as the level of nitrogen taken in exceeds the amount being lost, then the nitrogen balance is positive. This means you have sufficient protein in your system to enable anabolism (muscle growth). If you are losing more protein through urine than you are taking in, you are in a negative nitrogen balance, and only catabolism (muscle wastage) can result. …" - Thomas Delauer
[3] "…This (image below) shows a population of people eating different amounts of protein (measured as a function of their lean body mass) and measuring who were able to stay in nitrogen balance on the axis. In other words people on the 0 line are eating the right amount of protein to maintain their bodies. The range of protein necessary to achieve that ranges from 0.35 - 1.0 which if you think about it is a really large range. …" …More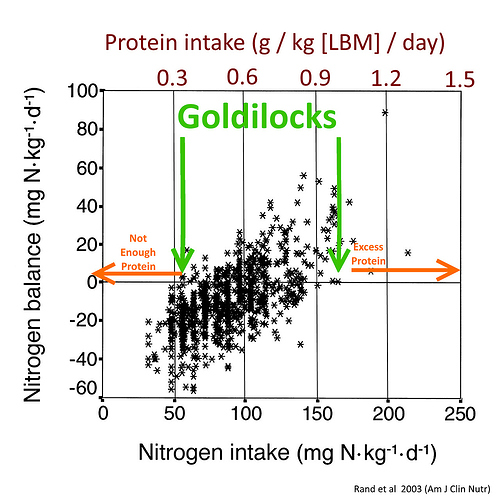 [4] Are long term high-protein diets harmful? Dr. Jason Fung: *Hard to say. There is some suggestion that high animal protein intake may cause osteoporosis. *Many of these proteins are acidic, which require neutralization in the body. This acid is buffered in the bones and then eventually the acid is excreted as phosphoric acid. Because bone consists of Calcium bound to phosphorus there is extra calcium which gets excreted in the urine. This leads to higher urinary calcium losses and potentially osteoporosis. …More
[5] Alkaline phosphatase (ALP): is an enzyme found in several tissues throughout the body. The highest concentrations of ALP are present in the cells that comprise bone and the liver. Elevated levels of ALP in the blood are most commonly caused by liver disease or bone disorders? …" …More
[6] "…Saliva production is the exocrine function of the salivary glands. The buffering capacity of saliva is critical to neutralizing the oral environment. This minimizes the de-mineralization of enamel and enhances its re-mineralization. K2, such as that found in fermented cheese (OR GRASS FED MEAT?), improves salivary buffering through its influence on calcium and inorganic phosphates secreted. Data collected from several selected primitive cultures on the cusp of civilization demonstrated the difference in dental health due to diet. …More
[7] Hepatic ALT isoenzymes are elevated in gluconeogenic conditions including diabetes and suppressed by insulin at the protein level
-[8] Fermentation adds vitamin B12 to plant-based foods naturally
[9] In situ fortification of vitamin B12 in wheat flour and wheat bran by fermentation with Propionibacterium freudenreichii