Sidenote: these pro tips are NOT for
Newbies (give yourself 6 weeks of a well-formulated LCHF/keto way of eating to become 100% fat-adapted or nearly),

Those with body dysmorphia (who are both regular participants and lurkers on the forum and in other keto groups),

Those with an orthorexic or mental aversion to dietary fat per se.

Those already at a healthy body weight/bodyfat percentage.

Those who are actually underweight (lean mass is both muscle and bone density and healthy tendons along with microbiome).

Those with certain neurological or disease conditions that would benefit from a therapeutic medical ketogenic diet (90% fat).
If you're not one of the above people, this graphic from Dr. Naiman is for you! If you're a midlife female with a naturally slower metabolism, this is especially for you! I've been learning this stuff for myself, and found it to be very true: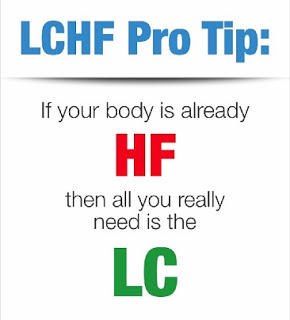 This begs the question "What is Really a High Fat body"? And, what is "Low Carb".
To figure that out your body fat, determine your natural waist measurement (people's belly buttons vary in location and some have longer ribs than others depending on ethnicity - so your natural waist is your skinniest area when you bend to the side - not everybody's waist is at navel level), and your waist-to-height ratio. You can then refer to various charts. This does not apply to growing children or adolescents however, it's just for adults
Waist-based measurements are much more accurate than BMI determination which does not distinguish between the proportion of weight due to fat or muscle and thus is a very faulty kind of guesstimation. FWIW, BMI is even LESS accurate in certain groups, including:
certain ethnic groups/genetic heritage, such as Pacific Islander populations (including Torres Strait Islander peoples and Maori), Aboriginal peoples, South Asian, Chinese and Japanese
body builders or weight lifters, some high-performance athletes
pregnant women
elders (65 and older)
people with a physical disability
eating disordered people
under 18 year olds
extreme obesity
What is pre-maintenance Low Carb for the fat-adapted beyond induction? According to the Drs. Eades, Dr. Atkins, Dr Phinney & Volek PhD - it varies, but is somewhere between 50-100 net carbs per day.
All that stated…
Exogenous fat SLATHERING may be interfering with your body's capacity to draw on your own fat stores. I've experimented with this and found it to be true for me. Fat-slathering is NOT about fat sufficient for reasonable cooking, fatty cuts of meat, and fat-for-MCTs (extra coconut oil supplementation for insta-ketones)… LCHF/keto is not about fat-free. So what is fat-slathering? Here are some examples:
Cooking your meat/eggs in the skillet with copious fat (like, 2-3 tblsp per person), removing the cooked food onto a plate, then pouring all the skillet fat all over your plate rather than saving the fat for the next meal's cooking. You could do that as a newbie, but those days are over except if you're doing OMAD (probably).

Eating mountains of guac and/or sour cream or mayo as one of your regular condiments/side dishes,

Making your fatty coffee/tea with 4+ tblsp of fat rather than 1 tblsp fat (w egg yolks if you're not doing IF), and/or drinking fatty coffees/teas throughout your whole day

Adding 4+ tblsp of fat to smoothies/shakes rather than 1. Making it worse by only having juice-type smoothies rather than rounding it out by adding high quality protein (grassfeed beef powder, undenatured grassfed whey, cottage cheese).

Eating keto "fat bombs" and keto ice cream as a daily thing rather than weekend thing.
Virta Health/Phinney & Volek's great graphic shows how when one is fat-adapted and one wants to lose bodily fat - one's dietary intake of fat reduces so that the body's own fat stores are used during first three stages. This also shows in the natural reduction of calories for their example given. If you stare at the graphic enough it'll all make sense eventually lolol. It's based on a case of a 5'6" woman's journey to a healthy body mass of 140 lbs.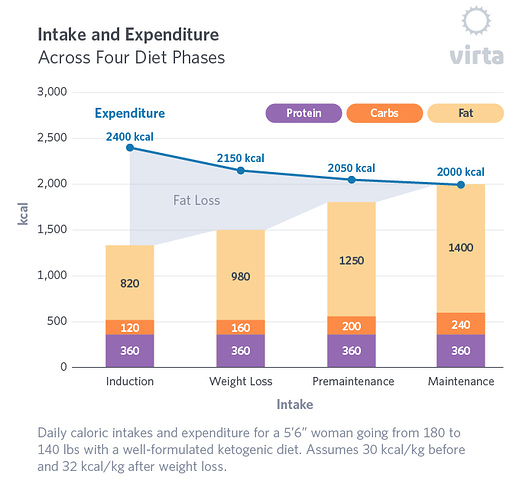 Additions/subtractions/stories/science?