Thanks, Michael. I also found this:
This seems the most plausible part to me: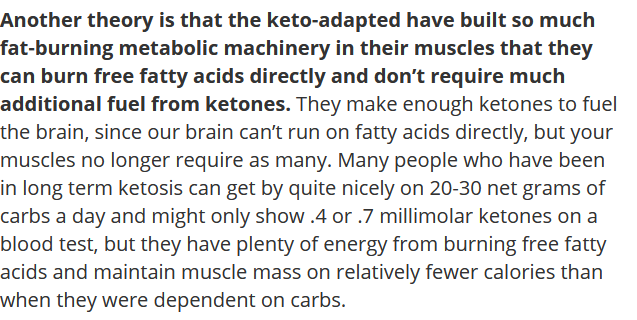 I have to contemplate that I never stopped exercising and work out 2-3 days a week. If you assume 2x/week, 50 weeks a year, 7.5 years, that's at least 750 times I've exercised. And this doesn't count all the house projects I've done, many of which cause my heart to race (been thinking of wearing a pulse monitor, but can't remember to do so). And that includes many work outs done after 32 or so hours of fasting.
I hypothesize that my muscles are outstanding at using free fatty acids for fuel, basically short-circuiting my "need" for ketones.
I guess I could get a FFA test, exercise, and get another FFA test to see what happens. But would that test this theory? What if I make FFAs while exercising?
Anyway, I do find, like the Mark's Daily Apple article says, that I can get higher ketones if I eat higher calories/fat one day. It's transitory, though.