I did the 2 -48's with that one meal of 1000 calories on Friday for supper and broke a bit after 5pm tonight. I am going to take a break off fasting for this week, and do my normal TMAD at 1pm and 4:30 for this week and then starting next Monday, I am planning on following this protocol until November 30 and also omitting all dairy except for butterduring that period, as I think it might be causing issues for me with weight loss.
@Ilana_Rose was mentioning this on a thread so this is her post:

This is what it looks like to figure it out easier, that she posted for me too: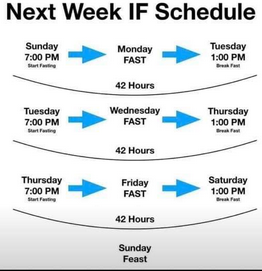 I think that the protocol that Brenda posted looks awesome too but that this one will currently work better for me personally. I posted about it on my thread too; and I think that @monsterjuice (Ashley) and some others might be interested in trying it as well.
I want to do the November Zornfast as well; though so for that week I will incorporate that into my plan above, by doing the Thursday after supper until Sunday after supper that week =) for a 72 hour Fast.