Me neither. It's not hard to get one, it even goes on sale sometimes. Last time I wondered about it but had other plans. Good for you, having a smoker, smoked duck sounds good and it would be a new thing for me to try! I see smoked turkey thighs in the hypermarket sometimes. It's too expensive, I get smoked pork for the same or less and smoked turkey can't be as good! But it's probably nice.
---
Maybe carni satiation kicked in (without carnivore. I am extremely close but not quite there) but today I had great satiation while eating very little! I guess yesterday's much meat helped but that can't cause it alone.
My photo isn't so great (and tells little about how I ate today) but oh well, here it is. My fav plate that always looks dirty… And yep, it's rarely super clean, I touch it and that's it with that dark brown half-shiny edge…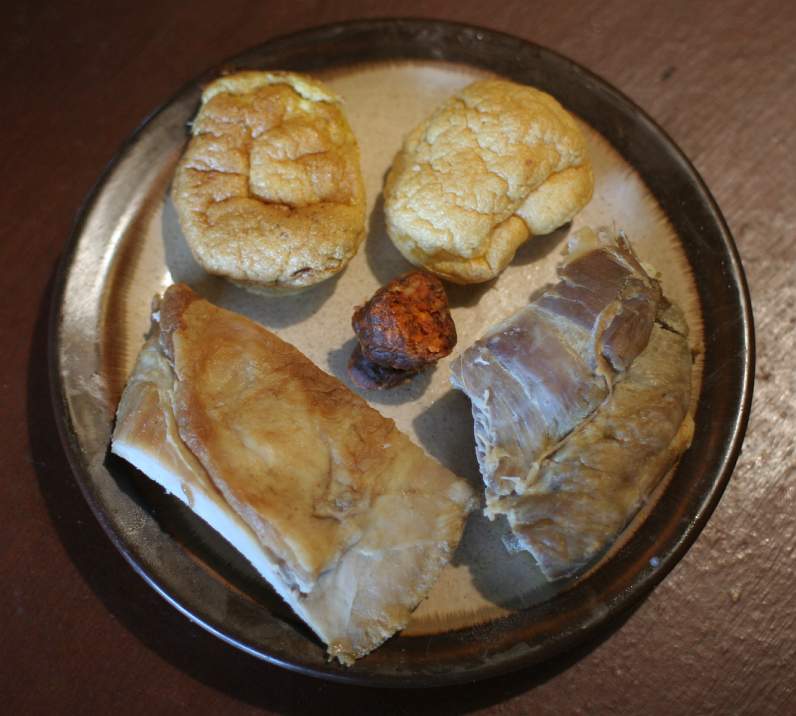 I didn't eat most of the fattier pork and had other food. As this is very little meat.
I made pizza today, it wasn't fully carnivore but we love that brand of tinned herring… I will try to make some great sauce myself and that will be better even if still not fully carni. But closer.
The crust was ground roasted lean pork and egg

It doesn't even remotely resembled pizza (even my wheat one doesn't resemble it, I have standards despite having just a few proper pizza in my life. I probably wouldn't like it now but I remember the texture and that's hard to imitate on carnivore. I don't even try as it doesn't matter to me but I do like crispy and crunchy things) but I could put the tinned fish and cheese on top and it was tasty and not my every day food. Alvaro had his own so I ate only half a tin of fish (100g with sauce), few carbs but still not carni.
I had pudding and creamy coffees as well. I make my jellied fluff differently now. And I deleted the paragraph here as probably nothing is that interested in my desserts (but I rewrote it differently…). This one was richer than both my jellied fluff and my keto vanilla pudding. Those are to add protein (only the fluff), satiation and joy in few calories. Not so few after I started to use (more) whipped cream instead of sweetener… Today's version was good! And carnivore! Next time I won't use gelatin and will freeze it. It will be an unusually egg white-y ice cream but should be good. Mom made something similar and I get nostalgic sometimes… But that was custard mixed with whipped egg white, frozen. I don't do such difficult things and I may be confident in my cooking skills but that doesn't include not making yolks into scrambled eggs when cooking them… I always use them raw if creaminess is needed. It's so perfect raw, why to take risks? Cooking thicken things but I have other options for it if it's needed at the first place.
This new recipe happened because I can't live without my desserts now. I want them. Typically after every meal. I do plan to lose that somehow but who knows how many decades it will take…? Not me.
I suppose I wouldn't want them every time if I managed to eat a decent amount of lovely meat but today's leanish stuff just wasn't that tempting (it matters that I eat leanish pork since long, usually fried though and I prefer that. but it's nice to have to roasted too. but this one isn't as juicy as in lucky cases. sigh) and all my other food couldn't help enough.
Surprisingly low-cal TMAD day (I ate at 3pm and 7pm, I just couldn't at 6pm), even my protein is as low as it can be.
123g protein, 100g fat, 375g meat. Oh and the fish so it's more, actually, almost a pound! Coffee between 3pm and 9pm, good enough (no headache but I low-key fancied it earlier and persuaded myself and I was so pleased I lasted until 3pm that I didn't feel motivation to postpone it even further). So my eating window actually ended at 9pm. I don't drink black coffee often anyway but when I have whipped cream? Forget it. But I am so modest now, 5g was enough. I used to have amount problems in the presence of whipped cream. I love it.
So I kept my fat AND protein lower than my usual plan that typically fails! Wonderful. I enjoy it while it lasts. And of course, the convenience and satiation. I had no hunger problems today

But I do need some different meat soon… As I did have appetite problems before dinner and I didn't enjoy my meat so much.
Slept much, still feel some lack of sleep but I couldn't nap even after my lunch. Didn't feel ready for my workout, not even for a walk, I did garden work though, in small doses. I so hope the next night will solve this, I have so many plans and some of them requires a properly working brain. A better than usual working one, preferably.