So many things to think about in these posts today!
@FrankoBear I don't think we can get double cream here, but I think in England I had it. My last time there was on a concert tour in the early 90s.
I love raw cream, which I have bought from a farmer in Pennsylvania. Here in Texas I haven't found anything other than supermarket cream. Love the image of the sleeping mouse on the spoon.
Congrats on the new farm! Sounds beautiful. Looking forward to stories of it!
@SecondBreakfast Hope you're recovering from that fall. Ice is scary. Rest is paramount for healing, hope you get a lot of it.
@Shinita You would love a little air fryer. In our tiny kitchen in Virginia, where the stove and oven aren't even working, I live on the air fryer, instant pot, sous vide and a small electric skillet. For the small kitchen they're ideal as I'm always swapping things from shelves to counter to cook. Counter space there is about a square foot!
Here in Texas, the kitchen is nice and big and most of the laundry room acts as extra kitchen. I get so spoiled here. But still depend mostly on the electric appliances I've gotten so used to in VA all these years.
–We decided some time ago to use dedicated fridge and freezer here whenever we could manage to get them. We got the freezer last month and today we got a "flex" fridge with programmable sections. This thing is so cool! Everything that was crammed into our side by side fridge section is now in the new fridge and it looks so empty! Here's how it looked right off the truck -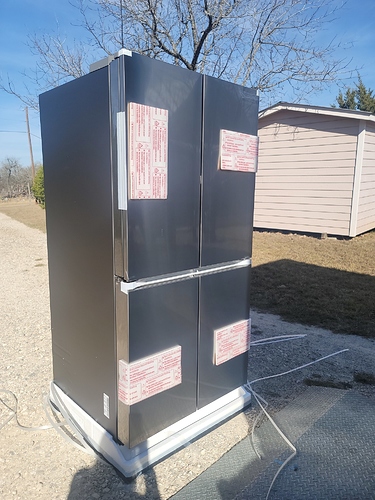 Today, I cut some more of the brisket for a late lunch after having a boiled egg in the morning.
After teaching, about 5, I sliced some sharp cheddar and braunschweiger and set it up on the island and that kept me going for the rest of the evening.