99% I am fine. I think it is jealousy pure and simple of not fitting into the little family unit sometimes. Not often, but on vacay when we hit ice cream out and they are having a blast yummy and ohh and ahh over how good it is I can get jelly fast LOL but key being, I been on plan long enough to know it is great not eating that sugar, cause in the end, that sugar is total destruction for me. Just human nature kicks in some times, more rare but it sure is not gone at all in me

@JJFiddle, Ohhhhhh, lol. didn't know it came apart and had an inner pot but duh, yea for cleaning I guess


I am far from an Inspector Gadget type HA
Same here. I am a loner type easily and must have down time or alone time and never put me in big crowds. I lover social stuff on my timeline and on the day and hr. I want it, then leave me alone

Nah. I don't think that way anymore. If my family can't eat around me and I do ok on my plan then my plan is useless to me ya know. Like I said to S above, rare I get jealous and feel left out of stuff but if I am in more stress mode, which I am right now handling life stuff for ourselves now, I can get that jelly mode fast. But being on plan means I cope with it, I handle it as it is MY issue. Old days when I transitioned over I told him never buy xyz and bring into house and he did comply, now I had to let that go and let them live their life as they see fit. I can't be that burden when it is my issue to correct ya know.
Luckily it is rare holiday products and disappear and he won't buy more of that any time soon. Impulse buy when he spotted that crap and they had their fill too on it so I realize big holiday times and some vacation fun will mean I have to pony up and draw from all my past work on me to stay on plan. So far, so good for me actually. I just like to type about experiences that seem 'hard' in the moment but I got thru them. Makes me realize when I type it out how well I did get thru it, more power for my future times I might feel less than and wanna eat the world


Happy Mrs B is improving and oh boy hope nothing is wrong with Bille!!
we don't chat eating veg. that is keto plan or lc chat


ok if ya eat it for sure but we don't wanna hear it on the thread. I mean this for me ya know in that I need a zc chat thread without veg chat LOL Many 'ketovore' types exist out there. heavy meat intake and little bit of veg they do well on, not a darn thing wrong with that. Just this is a clean zc thread so chat away on your meat intake for sure!!
but never too much bacon ya know. I inhaled lbs of it literally day in and day out for like 2 yrs. I did so fine on it for sure. Til I got sick of it

sorry cheese is a trigger. so many have this issue, I never did. I do well on hard aged cheese. Soft cheese guts don't like. But it is tough when reg. ol' cheese can't be enjoyed on carnivore ya know but some truly have issues with it. Best of luck changing your eating around!!!
-------------------SO NO CRAB. I WAS CRABLESS. I HAD ZERO CRAB.
yea hit store and they had NO crab anywhere. this is not a 'seafood dept.' area in this small local store. It carries only frozen crab legs in bags and it was gonzo. Chatted with my meat worker friend and he said they aren't gonna carry it more daily…only when it hits a sale will they receive it on the truck for sale times. No one is buying at the high price so it is more useless to stock that item. Huh…HELP! and I asked I saw no lobster tail cause I was that desperate and he said same issue so that got shot in the foot fast

So I hit country pork ribs on sale markdown pack. I ate this first yesterday and while delish and so darn fab I grumbled thru every bite pizzin' and moanin' it wasn't crab HAHA Yes I am a child that way sometimes, lol.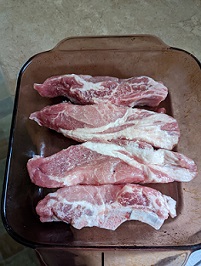 second meal was scraps. stole some bacon cooked for hubby he made extra for breakfast, gonzo, 2 burger patties with cheese, then I ate up some salami slices.
eh survival food

Mission is find crab legs I so want! other stores have it I hope and should put it on sale near holiday season now but those stores are more of a long drive away. I am more rural area and rely on my crappy local stores to buy mostly…but time to expand and commit some drive time to run down my crab legs LOL I will do just that. lazer crab focus time.
ZC ON!