I usually don't go over $3/lbs (I totally converted everything, currency and weight) and preferably stay way lower, like $1-$1.5/lbs, I don't like the option below even that - but I don't remember how many months passed since I ate ruminant meat (several, I know that much. probably the mouflon, I could search for that…) AND we will go shopping and wow, what a sale, venison for… $9.28/kg aka $4.2/lbs. Way, way cheaper than any beef except organs and I love deer. So Alvaro can make his ancient recipe that is basically half ruminant meat, half beetroot, very unfortunate for me - and I will have my very own slab for my purposes, yay!
Dairy prices went down a bit, it's unheard of but they went up illogically high and it caused something, I don't know the details… Even the good Gouda went on a lovely sale (the bad one already had it a few times but we tried and not tasty. some companies can ruin any cheese…) and its old higher price is what I can buy Masdaam for now…

I love it and it used to go on sales regularly but then I never found it for an okay price… And Gouda is nice, nice but Alvaro eats it all the time since ages and it's a tad boring for me sometimes. Not after a cheese break and anyway, it's fine, no big deal that it's doesn't worth it to get one of my favs for a higher price… But it's always a joy to see Masdaam on sale

I will buy some, it lasts for months. Half-hard cheeses are awesome.
Today's main meat is chicken liver. But considering I was sceptical and like to be safe and fried a little pork chuck, maybe not…? But my lunch will be based on liver

I am kind of hungry since before noon so I might eat lunch… I am in a mission now.
Oh I was on a walk, my pants are still the same. Alvaro said I surely gained fat, I just can't notice it yet but nope, my pants are very sensitive to tiny changes. He just doesn't know how my body work. His metabolism isn't affected by his food intake (he never eats too little) so he gains when overeat just a bit and quickly slims down when he eats a bit less but I am not like that. I always maintain. But not if I do it right, it's just tricky.
I wonder if I left the camera on manual focus or I am just that bad today… Oh well, blurry plate: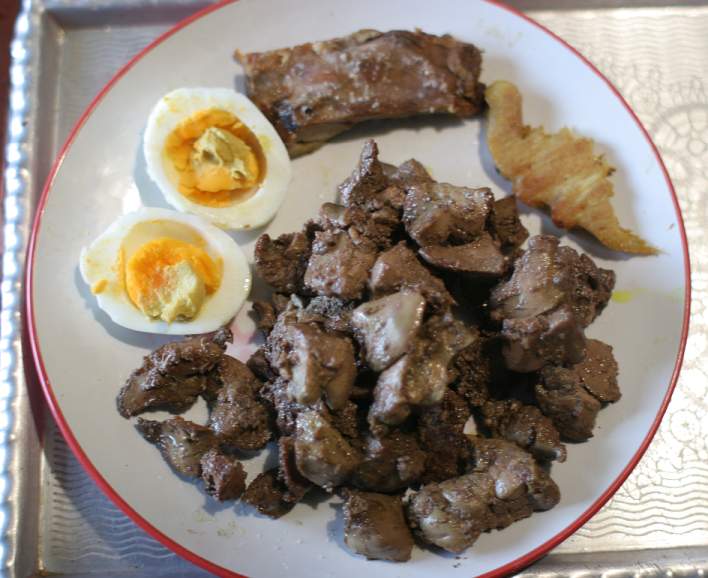 The dino is a tiny piece of Alvaro's pork loin, fried in hen fat (I used up all the hen fat for the liver, it got super fatty but it will be good for pâté I suppose. my plate contains the significantly less fatty half of my little liver). I have dino cookie cutters

They obviously won't cut a piece of pork but they are metal, I had a knife too… I made it work. It wasn't even too much work. And Alvaro got a dino decorated meat pie… We never ate such things (even without dino decoration ;)) and I always found the idea nice. And after a video about it last night I couldn't resist.
I hope my food desires partially get satisfied with cooking, I had enough of overeating for a while.
The liquid from the package of liver goes to Pie, mixed with worm medicine. She stopped eating after a little while but hopefully will finish it soon. She really likes that liquid (that goes solid when heated) and I added some fat from the oven pan…