@never2late: Oh my omega6/omega3 is nowhere near the recommended range, it's way higher and it won't change as I live on eggs and pork.
My body is happy as long as it gets enough of them and not much carbs so I think I am good. I just don't worry about it. I can't change my ratio but it sounds so wrong that eating good food can be a problem just because I don't eat fish. Well, very little. The last time was several weeks ago I think and it's always a tiny amount so negligible.
I try not to open another cream (a bag this time, 250ml, it's good Alvaro is ready to help ;)) so I made my jelly fluff with melted butter instead. And it's good!

Cream still works better but even with butter, it's creamy and nice unsweetened.
I like my new gelatin, it's beef and it wouldn't matter but this is way, way finer than the pork gelatin was so it melts way easier.
@Fangs: Yeah, I don't like gray much either, I am waiting for GREEN!


And yellow. REAL spring flowers have colors, I never liked snowdrops having snow colored, I am usually pretty bored of grayscale at that point

But they are still cute almost-spring flowers so I appreciate them too.
---
Gloomy day, the flowers stopped in the deeper cold so they aren't in abundance yet.
I still don't get why fanfics and anime act like stomach/guts growling would mean intense hunger… I got the growling at 12:22 and now at 16:20 I am still kind of satiated

It's WAY more expensive here than that…
[…]
17:33. A bit hungry and quite satiated at the same time. I have this sometimes after high-calorie days.
ZERO appetite but the first bite surely will change this…
[…]
Yep. It did. And I had to eat a lot to satisfy my hunger… Tomorrow I will focus on my meat more as 20 measurements and grabbing something again and again and again isn't fun… But my meat wasn't fully ready even at 6pm. I ate a small piece, half first and then (not being so hungry for a little while) I fried the leftover in a pan a bit and it was great! Crispy, warm, nice juicy leanish meat with fat layer on it… Great food.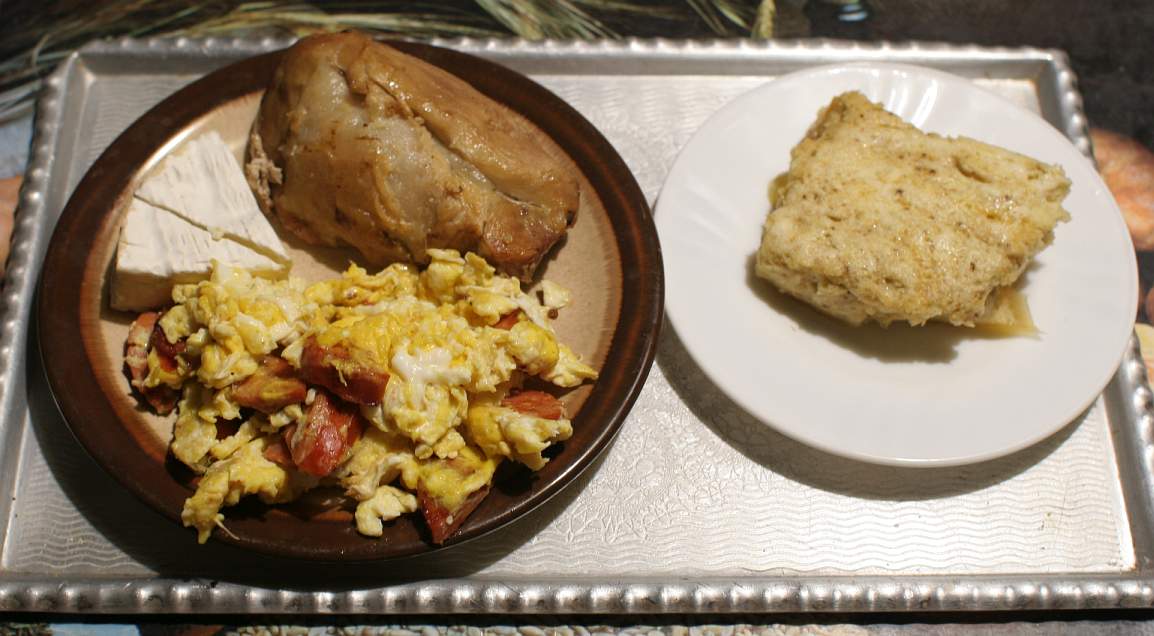 (The white plate has my jellied fluff! With anise and vanilla and cloves.)
I started with this. I wasn't sure I need it all as I still didn't feel particularly hungry or in need of much food when I started my meal, it was merely dinnertime so why not…?
I ate it all, of course… With much more eggs, quark with Greek yogurt, multiple slices of pork jowl, a little pork belly… I was still hungry, okay?
I got bored of all the measurements so I stopped eventually.
And 2-3 hours later I was way too full and a tad nauseated. Sigh. Alvaro has it with fatty low-carb food but me…? Oh well, it is very very rare so I don't worry about it.
At least I surely won't eat again today

And I am not particularly unwell just not ideally right.
It was a success I think, for day #1. No coffee (easy as I have none), OMAD and carnivore.
Guesstimation says 139g protein, 146g fat and 11g carbs. Not bad but it seems I don't need to add pork jowl when I eat a small amount of leanish pork (and it had a fat layer anyway). Okay. I can't guess my intake if my life depends on it, I need more time to figure these things out without planning first - and as no way I follow my plans, planning isn't that useful.
I did felt a desire to eat protein until the end.
Only 350g meat including the very fatty pork jowl.
---
My arm muscles and I weren't very enthusiastic today so it's a leg and abs day. My quads cramped a bit after 24 measly squats so I stopped. Oh well, I will be patient with my legs.
Allegedly zillion push-ups aren't the best (I keep watching videos about weightlifting and other workouts), not like it matter to me with my 0… I think the guy said they are like planks: fine and dandy for beginners but when we can do many (or doing it for long in the case of plank), it should be replaced with something more challenging. There are zillion different kinds of push ups (and other exercises doing similar things), that's why even I can do a few if I ease the base one

Others rather make it harder.
No idea what is the limit for push ups where one should do something else, I heard 1.5-2 minutes for plank. Makes sense. Alvaro totally got bored afterwards

I still collapse after 4-5 seconds. But I can do 30 seconds of kneeling plank (from a "core exercises for beginners" video. I can do all 4 except mountain climber but there is an easier version for that).