Here I am lol …
Raymond is still in hospital only he jas moved to the city hospital which is near the prison so further to travel. He is being kept in until they can fit him in for an angiogram under general so if they see anything that needs fixing they will do it straight away. Apparently there's chocabloc surgery list to squeeze him into so it will be as soon as. They are looking after him but he is very poorly. … not poorly enough to ask me to get him saturdays paper with next weeks tv guide in it and a ready mixed latte coffee powder cos he doesnt like the hosp coffee lol i am off shortly to visit him.
Food over last few days…
Jigsaw done and finished and new one started… took a week and too much heavy concentration which has been causing pains in my head. Going to visit doctor on tuesday to register my concerns that i am still suffering these pains when i have to concentrate hard. I have decided i will just get moderate to easy, but satisfying jigsaws from now on as the pains are quite debilitating.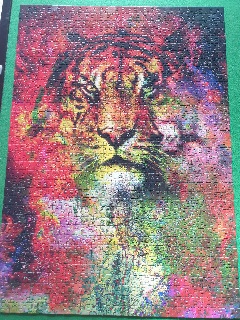 Also this week quite some communication between prison and civil service pensions. Looks as though there has been a monumental cock up between the two as csp now saying i dont qualify for ill health pension! The ball now in prison court and i may have to go to pension ombudsman. Hey ho, not stressing, no point while its out of my hands.
The CrossFit games started this weekend but i decided i didnt need to do it this year and feel very happy with that decision so i went along this morning to encourage and cheer on everyone else who is doing it and watching how their anxiety levels were peaking just reinforced my own decision not to participate. I cant do any better than i did last year anyway lol … when you're at the top there is only one way and thats down hahahaha.
Daughter has adopted another kitty so i now have 2 grandfurbabies

both black beauties!
Went dancing at Lichfield yesterday, on my own of course and had a pleasant afternoon.
Did a Company Shop shop to fill freezer with some sirloin steaks, cooked chicken and cheese and today picked up a rolled lamb breast in tesco that i will have tomorrow. Still to do a trip to Morrisons for the lamb shoulder.
Right i think thats me caught up sorry i havent enough time today to read all the posts i have missed… thats another thing that sets my head off hurting unfortunately