I want to make it very clear my reason, purpose or idea for posting this is not to create an argument about which diet is better! (e.g. why meat and fat, carbs, veggies is better or worse ect.)
I do want to examine the long and short-term efficacy of any diet and the deeper technical aspects and science behind it?
This diet below appears to be ketogenic and more plant based despite getting slapped with definitions and categorized into something it is not?
Logically the science behind what is being presented below has some real teeth and fills in the grey area and missing link (cross-over?) of the dietary battle arena?
One the key factors I'm finding; that it is always about the avoidance of processed foods (…at least as much as possible?) and finding a way to eat without slowing down your metabolism seems to be the reason for the weight loss and burning actual body fat which also seems like the common denominator (including timing of eating windows i.e. fasting & degree of caloric restriction, portion size per meal ect.) no matter what diet your on?
How Penn Jillette Lost over 100 Lbs and Still Eats Whatever He Wants
Beginning Transcript: "…I lost over 100 pounds, a third of my weight. I was probably at my heaviest. You don't ever weigh yourself at your heaviest but I was probably over 340, certainly around there. And now as I sit here in front of you I'm probably about 232. There's a fluctuation of a couple of pounds, it goes back and forth. That's a lot of weight. And I did not lose it for vanity. I was pretty happy with myself fat. I didn't mind being fat. It wasn't a big deal to me. I didn't mind how I looked. But my health was getting bad.
I didn't even mind how I felt very much. I didn't mind not being energetic and stuff. But I started having blood pressure that was stupid high like, you know, like English voltage, like 220 even on blood pressure medicine. And I have two young children. I'm an old dad. My daughter was born when I was 50. So I'm 61 now.
And my life expectancy, the actuary tables were crashing down and the doctor said that I had to get a stomach sleeve. It was a wonderful moment because it then gave me the option to go crazy. If you're going to surgically do something to me to stop me from swallowing that means I don't have to worry about doing a sane diet. I can get nutty. And being given the option to be nutty was all I needed. I realized that not only am I not good at moderation, I also don't respect moderation. Anyone I know who's able to do moderation I don't like them.
The people I respect and love are people that go wild. I mean I don't want to go into Kerouac here but the mad ones. No one brags about climbing a nice little slope. You brag about climbing Everest. So once my friend Ray Cronise who I call Cray Ray[1], once Cray Ray[1] told me that I could lose the weight but it was going to be really hard, it got really easy. Once you make something a challenge, you make something I can brag about, I can do it. …"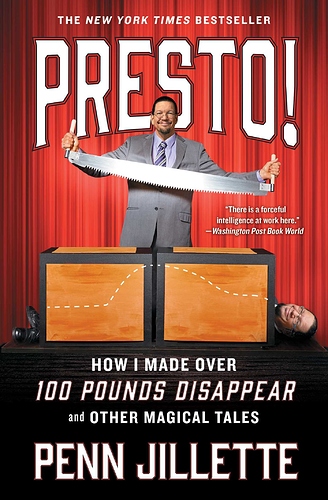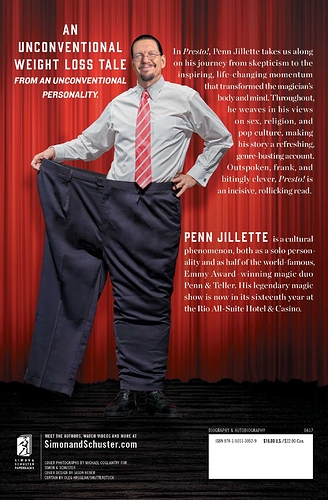 image link
Related:
[1] Thermogenics - Fuel The Burn: Starvation Mode - Ray Cronise
[2] The Penn Jillette Diet – 105 Pounds in 86 Days (nice review)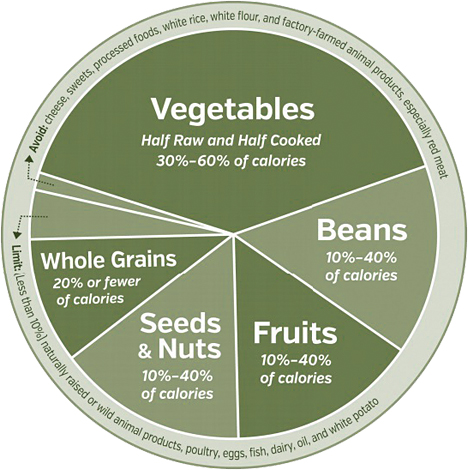 [3] Scientifically, What Would Be Considered The Perfect Diet?
[4] BURN FAT NOT SUGAR P:E ratio calculator