Woke up to a lower glucose and slightly better ketone reading than I expected given that I ended last night at 83G and 0.2K: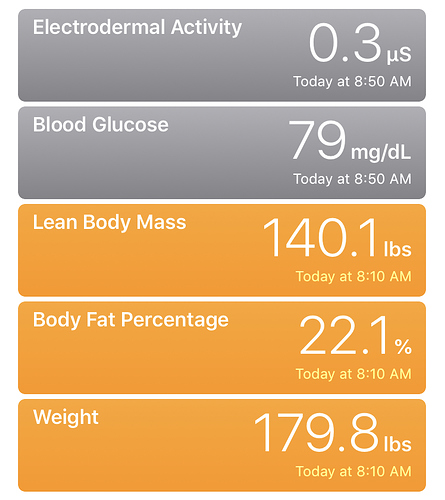 After eating a tub of tuna protein yesterday and keeping fat under 100g, I was expecting a bad outcome.
I was actually a little hungry a little after that meal! Even though I was uncomfortably stuffed… I didn't think I'd be hungry for days.
But I indulged in 52g of almonds. My suspicion is that the high fiber and fat pushed up my ketones. Fiber fermenting into butyric acid in the gut creates a sustained release of fatty acids. Add to that the exogenous fat in the almonds and it increases ketones just a bit.
Unfortunately, it's not endogenous fat usage so it's higher ketones but maybe no fat loss.
Another theory is that the net caloric deficit (since I didn't break 2000 compared to my usual 2800-3000) contributed to the higher ketones. That concerns me actually because a caloric deficit with low ketones (0.3 is very low) could be wasting lean mass.
But blood sugar nicely under control, so GNG looks to be under control?