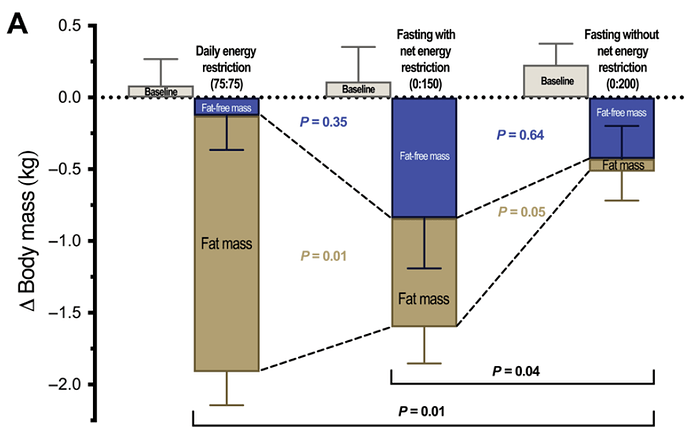 Extended Fasting Causes Muscle Loss
… well that is the headline glommed onto by some low carb bloggers to make the claim that their own proprietary dietary formulations are a replacement for extended fasting.
But is that what this study shows? And does the study tell us something new about metabolism? And for a post meal appetite cleanser, let's look at those proprietary dietary formulations and see if the claims stack up mechanistically.
So let's start with the study
A randomized controlled trial to isolate the effects of fasting and energy restriction on weight loss and metabolic health in lean adults
This study took 36 lean (BMI: 20.5-24:9, and body weight < 120 kg) weight stable (for the prior 6 months) individuals with no previous experience fasting or eating disorders, tracked their dietary intake for 4 weeks while they ate their habitual diet to see how many calories they ate to set their individual baseline caloric intake. They were then randomized into 3 groups and equally distributed by BMI.
75:75 eating 75% of their baseline calories every 24 hours
0:150 fasting every alternate day, and eating 150% of their baseline calories every other day
0:200 fasting every alternate day, and eating 200% of their baseline calories every other day
The 75:75 group was looking at change in both fat and lean compartments from a 25% caloric reduction.
The 0:150 group was looking at change in both fat and lean compartments from alternate day fasting with a 25% caloric reduction.
The 0:200 group was looking at change in both fat and lean compartments from alternate day fasting with no caloric reduction from baseline.
Jumping straight to the chart reposted by bloggers … the subjects on the 25% reduction with no fasting saw the greatest reduction in total weight with the least reduction in lean mass.
Actually that isn't exactly how that figure was republished by the bloggers with the proprietary diet to replace fasting. That looked more like this …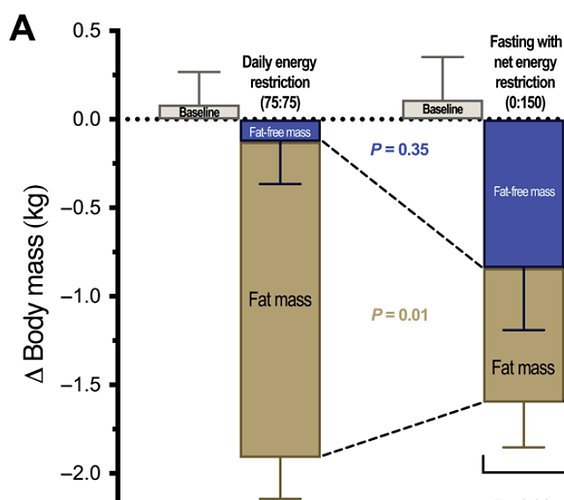 Just for fun: see if you can see what information the blogger really don't want you to be distracted by … just like Ancel Keys really didn't want to distracted by an additional 15 countries when his case is made with just 7 countries. Reply below when you see it.
What were they eating when they were eating? The usual balanced diet of carbs:protein:fat:alcohol trhat you would expect from a study by a researcher employed by Nestlé. Worth pointing out that the 75:75 group significantly reduced protein intake, the 0:150 and 0:200 groups did not - let's put a pin in that for now.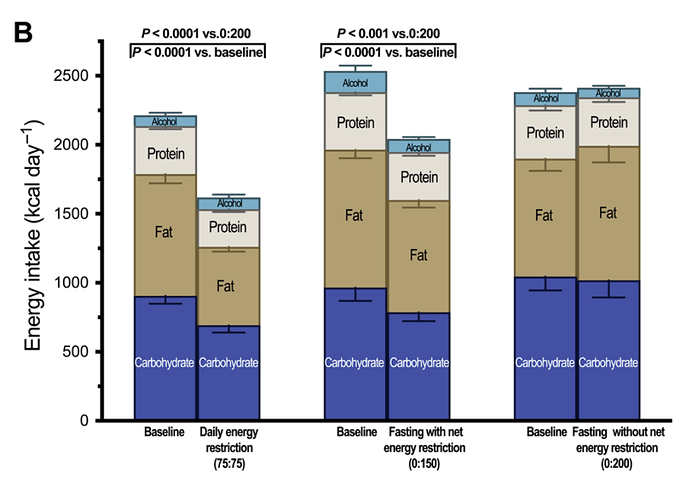 Energy expenditure changes from baseline were a drop on all calorie restricted diets but a non-significant increase in caloric expenditure (both resting and activity) above baseline on the non calorically restricted ADF group - let's put a pin in that too.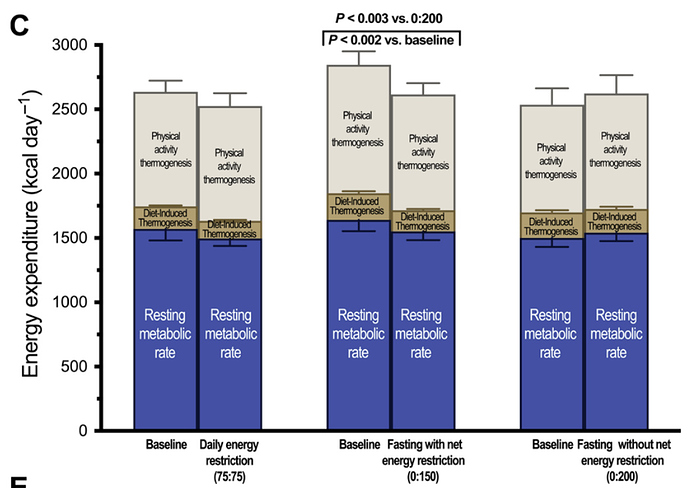 And we can see where they got their energy from; everyone was metabolizing mostly glucose before and after the experiment, but the non fasting group decreased, and both fasting groups increased their use of lipids - let's put a pin in that too.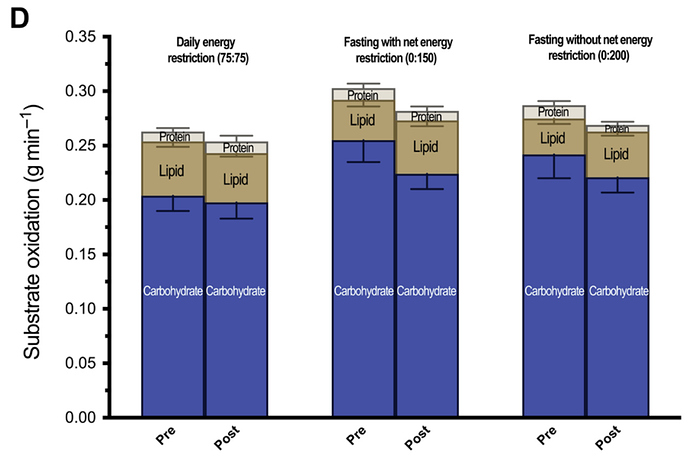 Let's focus for now on the quantitative weight changes in fat and fat free compartments comparing the CR (75:75) and CR+ADF (0:150) treatments. This is directly testing ADF while holding caloric reduction stable. I've also averaged the total energy expenditure and caloric intake for each group from the spreadsheet in the supplementary information.
We can predict how much maximum energy on average they can liberate from body fat every day using the formula given by Seymore Alpert of 31.5 kCal/day/lb of body fat
The difference between the 2 groups is that the 75:75 group have a consistent caloric reduction of 277 kCal/day that is less than the amount that can be extracted from body fat and so this group need to use very little lean tissue to cover the deficit.
But consider the 0:150 group who on the fasting day have to get all their energy from storage.
| | 75:75 | change | 0:150 | change |
| --- | --- | --- | --- | --- |
| Body mass (kg) | 72.1 ± 10.2 | −1.91 | 72.3 ± 8.2 | −1.60 |
| Fat mass (kg) | 18.3 ± 4.1 | −1.75 | 15.9 ± 5.2 | −0.74 |
| non-Fat mass (kg) | 53.0 ± 10.3 | -0.03 | 55.4 ± 9.8 | −0.75 |
| Energy expenditure (kCal) ₁ | 2525 | | 2617 | |
| Daily energy intake (kCal) ₂ | 2248 | | 2052 | |
| Peak shortfall (kCal) ₃ | 277 | | 2617 | |
| Energy available from body fat (kCal) | 1268 | | 1101 | |
| Min Req'd energy from amino acids (kCal) ₄ | 0 | | 1515 | |
₁ Daily energy expenditure at the end of the intervention
₂ Net daily energy intake during the intervention
₃ For the 75:75 group this is the difference between use and intake, in the 0:150 group this is a surplus on the feeding day and the entire expenditure budget on the fasting day.
₄ Number of calories required to meet the daily expenditure after body fat energy delivery has been saturated.
The problem here is that the subjects are too lean to fully fuel a bad day of hunting … AKA a fasting day.
So how much body fat would someone need to not lose lean tissue in a fast?
Well assuming their energy expenditure was 2617 kCal, the amount of body fat required to fully fuel that at a minimum would be 83 lbs or 27 kgs (instead of the mean 15.9 kgs of body fat in the 0:150 cohort)
Just 11kgs more body fat and you might see most of the weight lost from fat mass, and almost none from lean tissue.
---
So let's go back to some of those pins.
Protein <> Muscles
Let's clear one thing up to start out, when you see energy production from lean mass that is not from muscles. That is now how this works, that is not how any of this works. Muscles are made from protein (and fat but shhhh let's not get distracted now). We don't make energy (or even glucose) from protein. If we did then during a fast the liver would eat itself to make glucose.
What we do is use amino acids from a buffer called our labile pool of amino acids. The labile pool comprises roughly 1% of your total lean mass and consists of amino acids dissolved in all the aqueous compartments in your body (Circulation, Cells, interstitial spaces. Those compartments are filled by proteases working in liposomes in your cells recycling proteins (including other enzymes) into their constituent building blocks. Your cells first recycle proteins in excess, then those that are optional (that's what we call a metabolic slowdown), and then finally those that are essential (we call that process starvation). That entire process is sometimes called autophagy.
So what happens in an ADF when you don't eat protein on the fasting day is you draw down from that buffer, and on the over feed day you replenish it. If you don't have enough body fat then you might draw down on it faster than it can be fully replenished which explains why fasting these lean people resulted in significant loss of lean tissue.
But the people who are on the consistent caloric reduction are drawing down on that pool every day - do that for long enough and eventually you run into a metabolic slowdown, and then starvation.
Just eat moar protein
So you might say well when I diet I'll just eat more protein and make sure that I replenish that buffer. The problem is the way you use amino-acids for energy which is to strip off the amine moiety by making ammonia as a toxic byproduct. Normally we safe that by turning it into urea and peeing it out. But there is a rate limit of how much urea we can make. We can also see what the maximum safe limit of protein oxidation is as that was determined by Rudman et al to be in a linear relation to ¾ body weight (as a proxy for lean mass). It's roughly 3.21g of protein for every kilo of lean mass.
Above that and you start accumulating ammonia because you can't make it safe faster than you make more new ammonia.
Let's say that we put the 0:150 group of people with not enough body fat to safely fast onto a protein sparing modified fast on the fasting days. Can we do that?
Let's do the math. We need to replace the 1515 kCal from protein used to feed our energy shortfall on the fasting day. So to calculate that we divide 1515 by the Atwater approximation of 4 g/kCal for the energy density of protein = 378g of protein.
OK so how many kilograms of lean mass do I need to have for 378g of protein being oxidized to be below my rate limit to not accumulate ammonia? Well we divide 378g by 3.21 g/kg = 117kg of lean mass.
Arnold when he was competing was reportedly 108kgs with 6% body fat = 101.5 kgs of lean mass. But if you can put on an additional 15.5 kgs more than the Austrian Oak then you can likely safely use a protein fast to replace a regular fast.
The TL;DR is you need fat to fast - fat on your plate, or fat from a Krispy Kreme that you ate a decade ago