Originally published at: http://blog.2keto.com/recipe/crispy-chicken-skin-nachos-with-pork/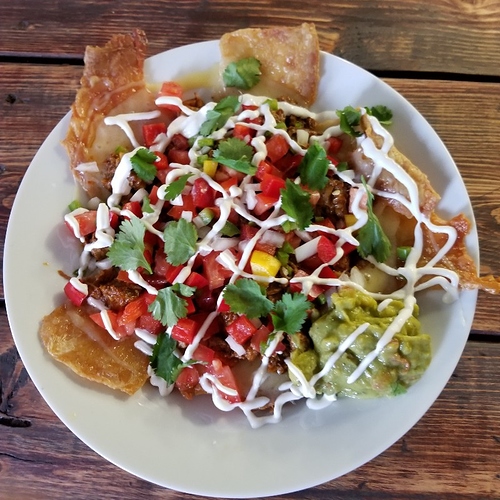 Everyone loves nachos. One of the things I used to miss about going keto is crunch. Two plus years later, it's not such an urgent need. However, I'm always very happy when I get something salty, crispy, crunchy, and delicious! I actually got the idea from my friend and fellow keto dude Richard Morris. His awesome Salmon Bacon (crispy salmon skin) recipe blew me away. After I started messing around with chicken skins he mentioned that I should do chicken skins in a similar way, but with bacon fat.
The trick here is to make a tray of bacon on parchment paper in the oven, and then re-use the parchment, with all its bacon greasy goodness, for the chicken skins. When I made bacon in the oven, I put another piece of parchment on top, then covered it with another cookie sheet. That insured that the top layer gets some bacon fat too. I laid the chicken skins down on the parchment, put the second greasy sheet on top of that, placed the other cookie sheet on top, and then put a few bricks on top to keep the skins flat.
I slow cooked a pork butt in the oven with cumin, guajillo chili peppers, cilantro, garlic, salt, and pepper. It makes such a better meat for nachos than your standard taco meat. The only other ingredient that you may not be familiar with is cheese sauce made with sodium citrate. The rest is standard nacho ingredients: tomato, peppers, onions, and sour cream.[wpurp-searchable-recipe]Crispy Chicken Skin Nachos with Pork - - Pork: pork butt (3-4 pounds), dried guajillo peppers (reconstituted and seeded), fresh cilantro (chopped finely), fresh mint, fresh parsley, garlic, yellow onion (small), cumin, chili powder, lime juice, olive oil, swerve, Salt, chicken stock, Cheese sauce: water, Sodium citrate, pepper jack cheese (grated), smoked cheddar cheese (grated), Toppings: fresh tomato (chopped), jalepeno pepper (chopped fine (optional)), fresh peppers (different colors, chopped), raw onions (chopped (optional)), Chicken Skins: bacon, chicken skins, We're going to cook the pork the day before. First we prep the pork, and then cook the chicken skins. Preheat oven to 375 F.; To make your roasting Sofrito sauce, combine chili pepper, onion, herbs, garlic, onion, cumin, lime juice, olive oil, salt, and Swerve in a blender.; Blend until smooth, about 2 minutes.; Pour chicken stock into the bottom of a Dutch oven or roasting pan. Place pork inside, and cover completely with Sofrito. ; If using a Dutch oven, cover. If using a roasting pan, cover with three layers of heat-resistant plastic wrap and one layer of foil. Make sure to crimp the sides and corners tightly. Refrigerate overnight.; 5 hours before serving time, preheat oven to 275F and cook pork for 4.5 hours. Allow to cool.; Cut the pork into bite-sized chunks.; Mix the pork with all the sauce it was cooked in. Adjust seasoning to taste.; Chicken Skins: Place a pound of thick cut bacon on parchment on a cookie sheet. Place another sheet of parchment on top, followed by another cookie sheet on top of that. Bake at 350 F for 25 minutes.; Remove bacon but save the parchment. Replace the bacon with chicken skins. Replace top parchment and cookie sheet. Place a weight on top bake at 350 F for 25 to 30 minutes.; Place a weight on top bake at 350 F for 25 to 30 minutes.; Chicken skins should come out crispy. If not, put them back in for 5 minutes at a time until perfect. Sprinkle with salt and set aside.; Cheese Sauce: Bring water and sodium citrate to a boil in a saucepan. Add grated cheese and turn heat to medium-low. Continue to stir until it reaches the right consistency. Remove from heat.; Nachos: Add the cheese sauce first, so the pork has something to stick to.; Add the pork next; Add chopped tomatoes, fresh peppers, onions, and Jalepenos.; Garnish with fresh cilantro, sour cream, lime juice, and guacamole. Enjoy!; - [/wpurp-searchable-recipe]