I've tested taking one tablespoon of Apple Cider (AC) vinegar on an empty stomach, with some water, and seeing what the results were. Using a pin-prick style blood sugar meter (Bayer Contour EZ) I thought I got about a 10 point BS decrease in about/over an hour. However, the results were inconsistent and the variance in those types of meters are terrible. So, I decided to try an AC vinegar test with a FreeStyle Libre continuous glucose monitor (CGM):

What this shows is Tuesday, where I had a workout of BBS (body by science) and HIIT ("high" intensity interval training), about 50 minutes, after about 34 hours of fasting. On Wednesday, I had a BBS but no HIIT (ran out of time), and I only made it 22 hours of fasting the day before, so I had dinner Tuesday.
On Wednesday at 1:06 PM, I chugged a tablespoon of AC vinegar and water, so see the results on my blood sugar. I took blood sugar every half hour or so. My conclusion? It's unclear whether AC vinegar at 1 Tbspn does anything to my blood sugar.
My blood sugar pattern is that I get a low around midnight, it goes up all day until around noon, then goes down all day. If you look at Tuesday (no AC vinegar), my BS was 98 at 3:02 pm. On Thursday, after taking AC vinegar, my BS was 98 at 3:10 pm. So, I can't tell if the AC vinegar did that on Thursday, or if that's my normal pattern.
The FreeStyle Libre output for Thusday doesn't show much of a dip: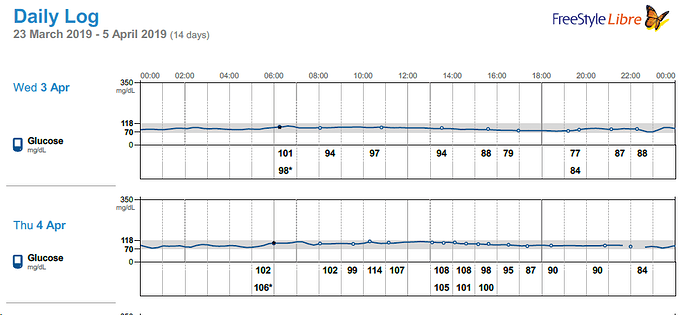 So, I'm not sure AC vinegar does much, at the 1 tablespoon level.
I'll try some additional tests, potentially at higher amounts also at night, to see if I can get my morning blood sugar to decrease. I'll report back.