I've decided to start one.
I seem to enjoy talking to myself lol.
I was going to stick to my fast, feast, fast routine this week but unfortunately yesterday I pulled a muscle in the gym doing over head presses and now I can barely move my neck.
Currently 19 hours in to my fast, planning from Tuesday evening to Sunday morning, my work is putting on a catered lunch for family in the park, and if you know me well, you'd know I don't pass up a feed and piss!
I'm currently week 24, almost 6 months Keto.
When I first started Keto, I did not realise it would take me this long to reach this point, but I am kind of glad it has, it has really taught me how to be patient with my results.
I am so wrapped though, I bought this jumpsuit 2 years ago, I don't even like it, it didn't fit me at the time but last night I tried it on and it fit like a glove.
Wow. I am amazed at the definition when I've only been in the gym for 3 weeks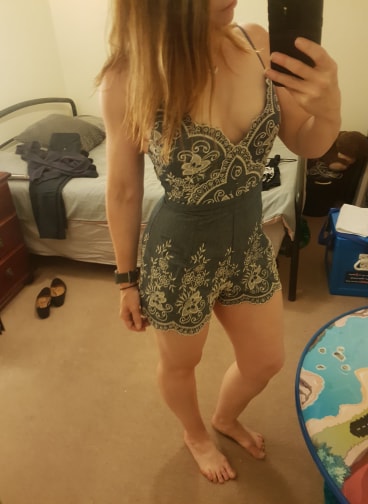 I've started getting out all of my old clothes which never fit to find they don't even fit now, I am too small!
I bought some more blood test strips, I said I wouldn't but they seem to motivate me when fasting even tho they make no fucking sense because of adaption, oh well, lol.
I made some bone broth last night, I was actually quite scared to because the first batch I ever made was GOD AWFUL and I probably wasted about 40$ in ingredients. I tried a different receipe that someone posted on the Zornfast thread and it worked out really well.
I think I can beat 3 days now that I have some broth, it seems to help my mental state by telling me i'm actually eating.
Anyways, feel free to join in on the banter, or not