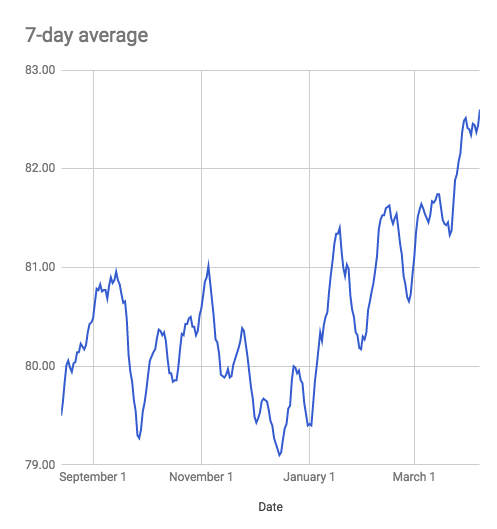 So for about a year, I've been stalled around 80-81kg (after dropping from around 93kg in mid-2016, rapidly losing 10kg in 10 weeks), which was frustrating but vaguely acceptable.
The weight has been coming back on slowly. It's sinister but it's very noticeable. My pants don't fit as well. I feel my belly getting bigger.
Nothing has really changed in how I eat; if anything, I cheat way less than I ever did when I was maintaining. The only real difference has been that I had a sudden hearing loss in December which meant the doctors told me I couldn't weight train. This was just a couple of weeks into me deciding to focus exclusively on strength training following Doug McGuff's protocol. So I basically stopped exercising altogether.
This is confusing to me, because I figured if I kept eating low-carb, I might not lose more weight, but how could I gain? But here I am, seemingly on track to gain more and more weight eating the same way that lost me all the weight in the first place. I have to conclude now that exercise of some kind is necessary even for maintenance.
I'm kind of freaking out! It's really worrying me.
Do any of you have thoughts on this? Similar experiences? Suggestions?
Gabe