---
I have one of these (though they sell cheaper versions):
---
Shrimp Deveiner



---
#3 Cast iron has been known to add iron into food or so I've heard.
#7 Wide variety of measuring spoons also come in handy. I have three sets.
#8 Electronic with ounce and gram options is quite nice.
#9 If porcelain, the salt in butter will, over time, eat away at the porcelain.
#10 My favorite is the AllSpice spice rack. When I bought mine, it came with empty bottles and lids along with a selection of different pouring attachments. It also came with plenty of labels. My go to for spices is Penzeys. We have one north of us and when they didn't have something, I was able to go to another spice store called Savory Spice.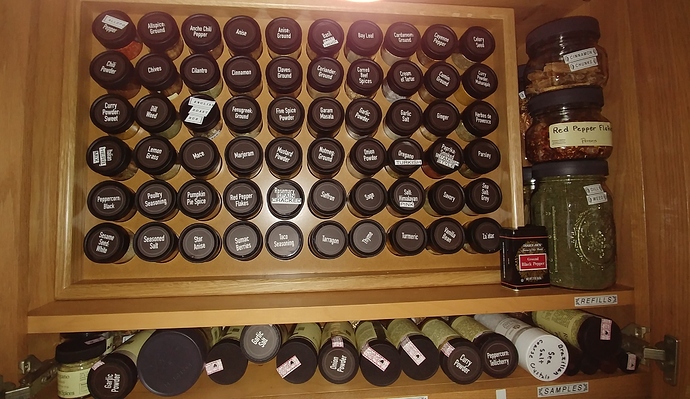 #21
Kitchenaid tilt stand mixer is my preferred weapon of choice. I had almost every gadget for it and found it to be a hassle so much so I gifted them to my niece's daughter. If you want to get 'fancy dancy', my recommendation is the Cuisart Food Processor. They've really upped the ante. I had one for years until things started really wearing out. I replace some things but just recently got one from Costco. It came with a cuber, a dough blade, a chopping blade for the big bowl and a smaller blade for the smaller bowl, a reversible grater and an adjustable slicer. A spiralizer is available but I can buy spiralized veggies at the stores in my area so I really don't see the need.
#16 Instant Pot - great for making hardboiled eggs. I keep several extra rubber rings and have found that the silicone red rubber trivet also works well for making hardboiled eggs and is more of a breeze to clean than the metal ones. I prefer the red one to the bright green one. I also have a set of PIP (pot in pot stainless steel set) for reheating foods. And a Instant Pot glass lid is good for keeping things warm while being able to see what's in it when it's not pressure cooking.
#22 great for making ketchup as the tomato puree gets very jumpy when it simmers!
My additions include:
griddle - great for frying up breakfast meats, eggs, etc all at once.
cloche - very useful for the griddle as well as for a pan to melt cheese or to help steam something.
marble cheese slicer for slicing block cheese
Pyrex 4 cup measuring bowl to use when you need to mix something small and quickly.
Wire whisk
OXO egg beater - I've used this to mix many things other than eggs!
a good set of oven mitts
a large cooling rack, if you have the room or two smaller ones also do the trick
a good pair of kitchen shears - Lamson Sharp (breakaway for ease in cleaning)
glass measuring cups because liquid and solids measure differently particularly in baking (exact science) than cooking (more forgiving)
8 x 8 or 9 x 9 baking dish, 9 x 13 baking dish - Pyrex is a good option
rimmed baking sheets - best ones don't warp in the oven
nested bowls, set of four - melamine, glass or metal
food storage covers for the nested bowls - mine look like flowers with a raised center
food storage containers with matching lids
bento boxes - try Daiso or HMart
variety of cookie scoops (or rounded measuring spoons)
salt and pepper mills
sauce pans, small, medium and large with lids
steamer to over sauce pan
serving spoons, slotted and solid
serving fork
dough blade
cutting boards (small, medium and large)
spatulas (both for frying and removing extra foods from bowls when mixing/baking)
kitchen timer
FROG tape (not masking tape) and a black sharpie for marking food as to when it was prepared
---