What do you think explains Wim's ability to withstand such harsh cold temperatures?
My theory:
Most will say brown fat (BAT), which I think is partially the explanation, but there is one part of the physiology that no one really talks about and that is the human SPLEEN which I think is directly connected to Wim's breathing techniques and why he can tolerate very very harsh conditions and stay under cold water or in very harsh cold weather in general for so long?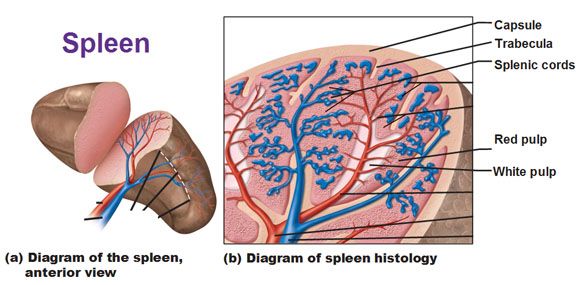 The spleen is part of the livers (hepatic) immunological lymphatic system of the body but it also regulates very subtle and vital involuntary and voluntary reciprocal responsiveness to environment, metabolic activities and functions (i.e. autonomic nervous system; "…The autonomic nervous system has three branches: the sympathetic nervous system, the parasympathetic nervous system and the enteric nervous system. Some textbooks do not include the enteric nervous system as part of this system.) such as the need for oxygen (larger non-dormant spleen?[7]), adrenaline; flight-fight responsiveness etc… Bigger spleen = hyper-oxygenation and outside pressure tolerances (i.e. atmospheric pressure e.g. "the bends" which occurs when nitrogen dissolved in the blood under the immense pressures of deep water bubbles out as we rise.) …at least that's my theory about this?
His spleen (…as well as those he trains) is much larger[7] (my hypothesis) than the average persons because of his breathing techniques?
Respiratory-Cardio-Synchronization of the brain-liver-spleen-axis including the HPA-axis…
Wim Hof, The Iceman Cometh | HUMAN Limits; Superhuman "Iceman" Wim Hof is showing the world how to kick Mother Nature's butt, one deep breath at a time.
Related References:
Sitali Pranayama - Kundalini Yoga - Exercise for Spleen, Liver and Digestion - Ancient Vedic Historical Reference; Breathing Asanas
"… A study in rats found that cold exposure revamped thyroid function and increased BAT oxygen consumption by 450%. Researchers reported in the Journal of Clinical Investigation found that cold exposure in humans can increase energy expenditure, and may assist in fat loss. A study published in the New England Journal of Medicine found that adult humans have more brown adipose tissue (BAT) than previously thought and can significantly increase energy expenditure in response to cold. …"
Dr. Rhonda Patrick on the Health Benefits of Cold Exposure and Sauna: "…The health benefits of cold thermogenesis are due to the activation of brown adipose tissue (BAT), a form of fat that burns regular fat for heat generation through fat oxidation. This has mitochondrial effects in cranking out more ATP (look at the Berkeley College take on this below [7]?). The more mitochondria there are, the better our aerobic capacity will be. Cold exposure increases the number of mitochondria (mitochondrial biogenesis). The more BAT you have, the better your body becomes in burning fat for energy. Fat loss benefits, anyone? Cold exposure also releases cold shock proteins such as RNA binding motif 3 (RBM3) that is linked to regeneration of synapses. Similar effects have been observed in so called heat shock proteins that are released under heat stress. …" …More
Size Matters: Spleen and Lung Volumes Predict Performance in Human Apneic Divers: "…We conclude that both spleen- and lung volume predict apnea performance in elite divers. …" Holy Divers?
"… The spleen also serves as an important connection between the brain and the immune system. In 2008, for the first time, fibers of the vagus nerve were found in the spleen. … In situations of severe septic infections, stimulation of the vagus nerve gives increased survival in laboratory animals. …" "… The spleen also serves as an important connection between the brain and the immune system. The vagus nerve supplies parasympathetic fibers to most organs in the body and influences heart rate, digestive processes, sweating, speech and other functions. In contrast to sympathetic nerve fibers—think fight or flight, excitement and anger—the parasympathetic branch of the nervous system is associated with relaxation, a slower heart rate, lower blood pressure and feelings of calm. Research is ongoing on vagus nerve stimulation in people with severe seizures, depression and severe pain. Activation of the parasympathetic nervous system is also associated with decreased inflammation in the body. Long, slow breathing, preferably through the nose, is a simple way you can derive the benefits of vagus nerve stimulation. Most meditation methods use this kind of breathing.* Establishing a daily practice of relaxation can lower blood pressure, help digestive disorders, decrease anxiety and possibly improve your immune system. Research in this is ongoing. …" …More
"…A normal cell uses mitochondria like a battery to perform work. … But in brown fat cells, UCP1 short-circuits that battery, causing it to heat up instead of producing ATP. (look at Dr. Rhonda Patrick's take on this above[4]?) With UCP1 activated in the mitochondria, brown fat cells soak-up fat and sugars from the diet and burn them for heat in the mitochondria. …" Mar 5, 2018 U C Berkeley College
"…A long-term high-fat diet changes iron distribution in the body, increasing iron accumulation specifically in the mouse spleen. …" …More
Note: …iron is what makes this specific type of fat cell brown/dark; hence iron rich mitochondrial adipose tissue or brown adipose tissue (BAT)!
(SPLEEN) SYK kinase mediates brown fat differentiation and activation: "… Here we show that spleen tyrosine kinase (SYK) is upregulated during brown adipocyte differentiation and activated by β-adrenergic stimulation. Deletion or inhibition of SYK, a kinase known for its essential roles in the immune system, blocks brown and white pre-adipocyte proliferation and differentiation in vitro, and results in diminished expression of Ucp1 and other genes regulating brown adipocyte function in response to β-adrenergic stimulation. Adipocyte-specific SYK deletion in mice reduces BAT mass and BAT that developed consisted of SYK-expressing brown adipocytes that had escaped homozygous Syk deletion. SYK inhibition in vivo represses β-agonist-induced thermogenesis and oxygen consumption. These results establish SYK as an essential mediator of brown fat formation and function. …" …More