I'm finally listening to the 2 Keto Dude's podcast with Dr. Phinney. He says or agrees with things like "protein turns to carbs" and "there are no upsides and tremendous downsides to eating more protein than you need". (These are not direct quotes, but close enough.)
I have to say, I think he's completely wrong. I bought a continuous glucose monitor to test what happened to my blood sugar with massive amounts of protein (120+ grams in a single meal).
This is what I wrote about this set of pictures: "Fasted from Wednesday, November 29th after dinner until Friday, December 1. Body by Science workout at about 6am. Ate at 9:15am-9:55am. 1 can pink salmon (180 cals,3g fat, 36g protein), shrimp (not sure how much), 1 package mussels, 1 can anchovies w/oil, olive oil, vinegar, 2 chicken thighs." This is 100+ grams of protein in a meal.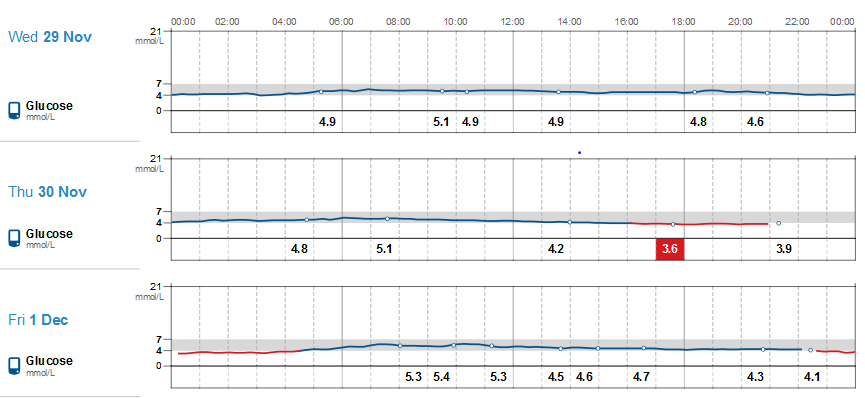 Here's another one, for which I wrote the following: "Thursday, December 14, fasting. Friday, December 15, got up (first dot from left), had black coffee, went to gym (25 min Body by Science workout), got to work (second dot from left), ate all meat between next two dots."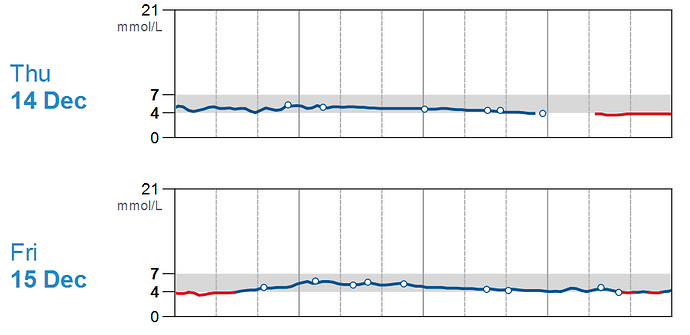 Here's what I wrote for this one:
Lunch on 11/21/17, started slightly before 10am, ended 10:16am
37 hours fasting, Body by Science in the morning around 5:30-6am
I can anchovies (drained): 50 calories, 2g fat, 8 g protein, 600 mg O3
1 can sardines (drained): 200 calories, 9.4g fat, 28 g protein, 1,300 mg O3
1 can pink salmon (no bones, skin) (drained), 5.3 ounces: 159 calories, 2.7 g fat, 32 g protein, 954 mg O3
Mussels, 8.2 ounces: 187 calories, 4.7 g fat, 35 g protein, (3g carbs)
Shrimp, 10.4 ounces: 243 calories, 0g fat, 59 g protein
Totals: 839 calories, 18.8 g fat (169.2 calories, 20% by cals), 162 g protein (648 cals, 77% calories)
That's right – 162 grams of protein in a SINGLE meal.
Here's the results: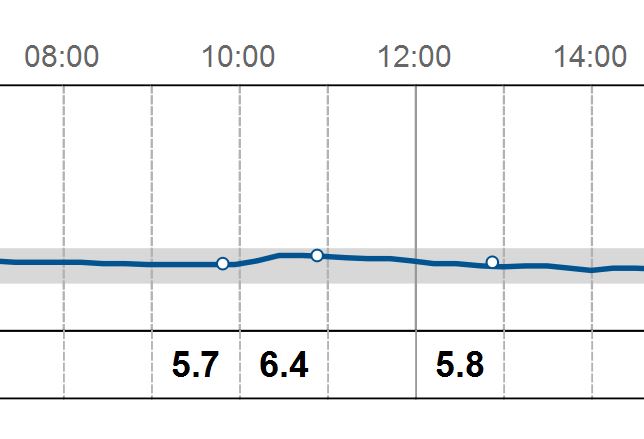 I have many more of these, some without fasting so extensively, and NONE of them show protein being converted to blood sugar.
You have to know that I bought a CGM to PROVE that Ted Naiman's ideas about protein were WRONG. And I have now converted from a higher fat, lower protein low carb/keto diet to a higher protein, lower fat low carb/keto diet.
I just do not think Dr. Phinney is correct about protein intake. What are your thoughts?