Not a lot, it turns out.
https://www.theturnertwins.co.uk/fitness/40-vs-20-minute-workout
They each gained about a pound of muscle: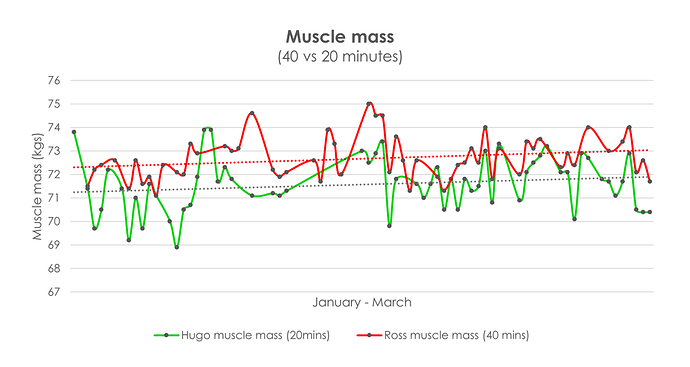 I found this article to be refreshing, because this is the way normal people gain muscle mass. 1 pound every 4 months is 4-5 pounds a year, which I think is a realistic amount for pretty much anyone. Can you gain more than that? Sure, if you're a 15 year old Arnold Schwarzenegger working out 3 hours a day. But for most people, 5 pounds a year is a reasonable amount.
And they have interesting data like this:

To me, this is refreshing also, because in 3 months, they really only gain one pull up. It's taken me years to get to 7 pull ups, so at least I don't feel so bad considering they are younger and leaner than I am.
The only detriment for me is that I wish the test were longer. For instance, for deadlifts, they gained 20kg in 4 months. I'd guess that wouldn't continue, because if it did, that's 80kg/year, so in 5 years, that'd be 400kg + their starting 125kg = 525kg, or 1157 pounds. There are very few people deadlifting 1157 pounds.