The most compassionate approach that balances the risks and benefits of reaching herd immunity, is to allow those who are at minimal risk of death to live their lives normally to build up immunity to the virus through natural infection, while better protecting those who are at highest risk. We call this Focused Protection.
This is part of The Great Barrington Declaration.
I have to say, it seems like garbage to me. I am 56 with idiopathic (they don't know what caused it) dilated cardiomyopathy (enlargement of the heart), started 7.5 years ago. I assume I'm at higher risk for covid. Where I live, I'm "essential", so my boss REQUIRES me to go to work. How can I have "focused protection"?
In my town, a 55 yo male got covid. Spent 12 days in the ICU and 52 days in the hospital.
I listen to This Week in Virology, and each week, they have an update provided by Dr. David Griffin, NYC, with over 1,700 covid patient interactions. He related a story of a 55 yo male in NYC who (just recently) went to a wake for one of his relatives. He caught covid and died.
Again, how do I protect myself under this "Focused Protection"?
You can listen to virologists who take this apart:
https://www.microbe.tv/twiv/twiv-673/
We know of a person. This person dates an older man. She's an aunt to a 2yo and got covid from watching the 2yo, which she does twice per week. The 2yo got it from her mom, who got it from her sister. Her sister went to a college party and came back with it, giving it her sister (the mom of the 2 yo) and also their parents.
The 2yo and college student were supposedly asymptomatic
We're hoping our acquaintance's boyfriend does not die.
When you are asymptomatic, yet can shed enough virus to give the disease to someone else, how can you have "Focused protection"?
Will the kids in the college be OK from covid? Most likely (though the risk is not zero). But the staff, the teachers, the janitors, etc. will not. Same with sports. The athletes might fair ok (though some might not), but the coaches and staff might not.
You CANNOT have "focused protection". It's a myth. It's not possible.
And herd immunity is simply not possible, either.

And even though college students are better off, look at this calculation. Assume there are 20 million college students:
The IFR for this group (sorry, this is the best age range I can find):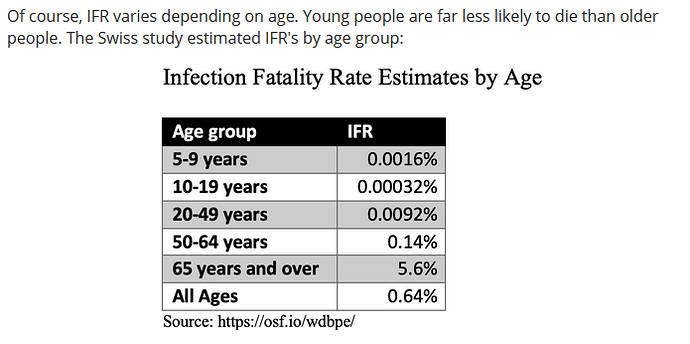 This means that 1,840 college students would die of covid if every college student caught covid.
You want something that's real protection? Get $1 spit tests for covid:
https://www.microbe.tv/twiv/twiv-640/
Limit indoor events. Wear a mask. Distance. Increase indoor air flow.
But The Great Barrington Declaration isn't helpful.