So I've started reading Robert Lustig's blog. And my first thought is that what he writes makes a lot of sense. His approach to the obesity epidemic appears entirely sensible. He has spent 25 years investigating the causes and treatments of chronic disease, and he sums up his research career in three simple precepts (in his own written words):
It's the insulin, stupid.
It's the sugar, stupid.
It's the lack of fiber, stupid.
Robert Lustig wholeheartedly believes fiber is essential for health. Whereas he tells people not to consume processed foods, and has openly declared war on the food industry because of its penchant for putting sugar into everything, he also believes we should eat a varied diet. He believes we should eat intact whole grains, vegetables, nuts, beans, fruit and dairy.
My own experience has been that when I decided to quit the carnivore WOE and go back to basics, to keto, which involved adding back in fiber-rich vegetables and nuts, my body thanked me, and now, instead of dragging my feet across a room, I am finding myself running up the stairs again, and my digestive system is back to normal. I will also be incorporating other sources of fiber such as fruit, say avocado and berries.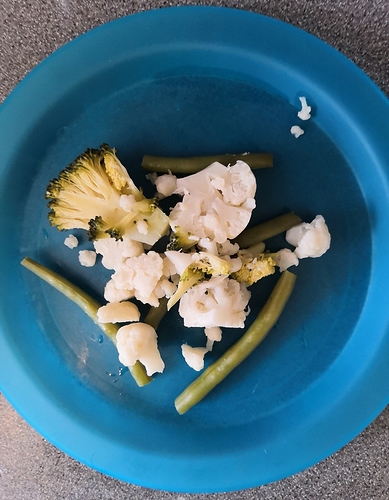 My keto allowance of vegetables today.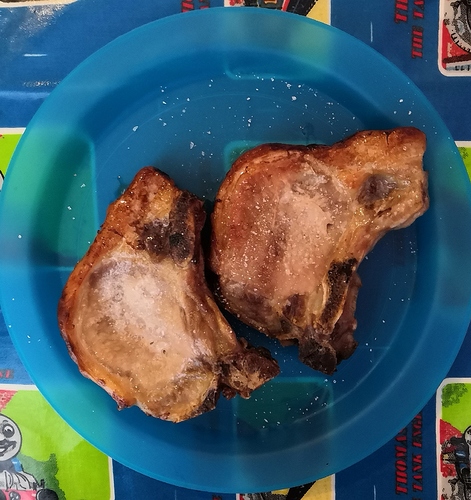 And a little later my fatty meats (I'll probably have the last 2 pork chops later today. My lunch earlier on was mackarel).
To not see carbs as the enemy, I think Robert Lustig's point is here, and to differentiate between rubbish processed food which generate diseases, and nourishing whole foods. Carbs, I have come to believe, are not the enemy. The way our minds perceive them, are swayed by science, how we have become rather rubbish at listening to our bodies, is a more likely culprit. And the lack of knowledge the public has about what is healthy, and what isn't, and whether the difference matters.
Oh well, just thought I'd share my thoughts. You are welcome to share yours. I believe it is important to stay open-minded as we human beings are so prone to confirmation bias, and not just focus on studies, articles, people we agree with. It is also very important to see the matter from different point of views, in order to see the bigger picture, or at least feel well enough informed.